A small group of young Native American musicians met for a songwriting retreat led by legendary recording engineer Uncle Rick Clifford (former chief engineer at Death Row Records) in Seattle, where they wrote and recorded what would become the first single on the new project by Blue Flamez – "Rez Life," out on Portland-based Ibori Records.
The track "Rez Life" which had been nominated for "Best Video" and "Best Single" at the NAMMY Awards – reaching the final positions in both categories – eventually picked up the "BEST VIDEO" award at the culminating  ceremony which took place in New York on September 17.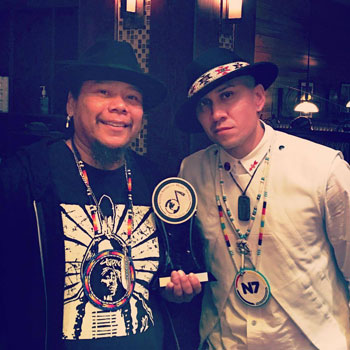 Scott Kalama AKA Blue Flamez, who has been a mentor in training with the music empowerment program Beats Lyrics Leaders, is joined on this track, by youth from the program, to tell the world about life on the Indian Reservation, strictly from their perspective.  "The most significant thing about this project to me," says Scott, "is the message in the lyrics, which tell the truth of reservation life and the situations we as a people are living.  I love how the video shows us in a fun, positive atmosphere."
Creative oversight on the video was left to Eat Cho , which also features acting by rising Portland star, Talia Reasoner.  Music production was led by Yamio263, and includes session work by Tony Ozier, Portland's King of Funk.  The project was recorded at Orbit Audio in Seattle, also used by Macklemore.
If you have not yet listened to Blue Flamez, you are missing out. If you have any interest in contemporary urban music with a Native American flavor you must get your hands on some. If you have any interest in powerful, truthful, lyrics set to well written and performed music you need to get your hands on this. It's hard to pick a favorite song on this 7 track collection.
Although it's obvious that the single and title track "Rez Life", grabbed me immediately, it was very hard not to fall in love with the slow-burn anthem "Warrior", or the funky bass line of "King Without A Crown". Just as much as I couldn't resist the strings on "Stayin' On My Mind" or the drum-driven head-nodder, "We Come Correct". This stuff goes beyond its birth as Native American rap music, to become ear-catching truths that touch us all.
"Rez Life," is a superlative compilation of music, lyrics, and song – highly intelligent and deeply profound; a delight to the senses; an emotional roller-coaster hitting all the feelings – happiness, inspiration, sadness, anger, and despair. The album production is excellent and Blue Flamez voice and flow soars over the beats.
This is the type of album most artists are trying and hoping to make for their whole of their career. Every facet of hip hop music is well represented here – lyrics, beats and substance. I would like to conclude this review by expressing my gratitude and appreciation to Scott Kalama AKA Blue Flamez and the complete crew who wrote, performed and produced this exceptionally fine and highly enjoyable project.
You still have a few days left to vote for Blue Flamez at the NAMMY Awards so go HERE to register and vote.
OFFICIAL LINKS: RECORD LABEL – CDBABY – YOUTUBE