"Everything Happens For A Reason" is a very solid mixtape. Reek4Real X Loui Kavano both have the skills and charisma that it takes to make a mixtape that you can listen to without skipping any tracks. They switch flows and subject matter throughout the 25 tracks, making it even more entertaining. The beats are impressive throughout. The producers realize the potential that Reek4Real and Loui Kavano have and they lend some excellent tracks to rhyme over. Taj Taylor, Jacob Beats, J, SlickGoHam, Bruce Wayne, Keenan, The Beat Plug, SaruBeatz, and mostly Shane Alexander, give them the star production that most underground rappers never see.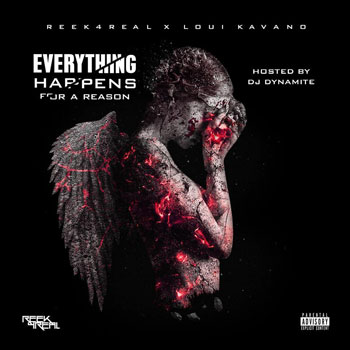 This mixtape kicks off hot with "Remember Me [Prod. By Taz Taylor]" and doesn't let up until the music stops playing on the final bonus track, "Outro [Prod. Shane Alexander]". Rapping over prolific beats and delivering tantalizing wordplay, Reek4Real and Loui Kavano swiftly breach many different topics effortlessly. The deliveries are accentuated with some really amazing hooks, providing an interesting dichotomy between the harsh rapping on the verses and the uplifting choruses. The production on this mixtape is absolutely wonderful, better than that on most underground albums. There isn't a single track on "Everything Happens For A Reason" with which I was disappointed. It is very apparent that Reek4Real and Loui Kavano brought their best to this set.
If you like me and have been sleeping on Reek4Real and Loui Kavano, be prepared for a pleasant awakening. This mixtape is point blank dope. I am usually very critical of lyrics but these tracks will definitely make you bump your head in appreciation of the word game going on here. "Everything Happens For A Reason" is a great mixtape with strong production, more than decent lyrical performances and a consistent atmosphere. The production drives the mixtape.
The beats are consistently good, from a variety of producers, with quite a few significantly strong bangers that capture attention. You are hit from a lot of different angles with each track and choosing favorites or standouts is a massive task when dealing with collections of this magnitude. Forced to choose a few, I would say "God [Prod. By Jacob Beats]", "We Gone Blow [Prod. By Shane Alexander]", "Married To The Mob [Prod. By Shane Alexander]", "Bruce Wayne [Prod. By SlickGoHam]", " I Aint Goin [Prod. By The Beat Plug]" and "Till I Die [Prod. By Shane Alexander]", but there are just so many tracks to choose from, you'll certainly find your own favorites.
Reek4Real and Loui Kavano are bringing back what so many other rappers are not doing anymore and that is storytelling. "Everything Happens For A Reason" stands as a tribute to how far clever, lyric driven raps and vibrant beats can carry a project and the simultaneously victorious and cocky demeanor works very well and is blisteringly entertaining throughout. You can see they had a clear vision ready to crush the competition with this record. This is a goal they have accomplished and the result is a resounding affirmation that Reek4Real and Loui Kavano are undoubtedly at the top of their craft, wielding it effortlessly and with great professionalism.
OFFICIAL LINKS: SPINRILLA