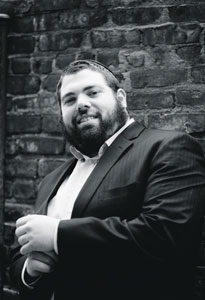 Aryeh Leib Hurwitz is a Brooklyn-based singer and cantor whose brilliant voice has been featured all over the world. His repertoire consists of many different melodic genres and songs in a variety of languages, including Opera, Broadway and Modern Jewish music.
Aryeh released his debut single "SHEYIBONE" on SEFIROT RECORDS on February 26th, which was followed by the live music video for this song.
"SHEYIBONE" is a very unique combination of Chazanut and Jazz, which makes for a perfect rendition of this classical Jewish song. It features a truly all-star team working on it: performed by the Eyal Vilner Big Band, conducted by Meir Briskman, sung by one prolific Chazzan and Singer ARYEH LEIB HURWITZ, mixed and mastered by Grammy Winning Producer Brian Forbes.
The single has already gotten terrific feedback from both the American and Israeli Jewish music communities, as well as from outside of Jewish society in Germany, France, Italy, Canada, USA and UK. "Jewish Frank Sinatra meets Pavarotti meets Rosenblatt!" – that's how it's been called by press and music critics!
Official Website:
www.aryehurwitz.com
Social:
Instagram
https://www.instagram.com/aryehlh/
Facebook
https://www.facebook.com/aryehleib.hurwitz
The single is available on:
SoundCloud:
https://soundcloud.com/user-57048189/sheyibone
Spotify:
https://open.spotify.com/album/4rIPvoJjg2wX6HArB2OrfZ
iTunes:
https://itunes.apple.com/us/album/sheyibone-single/1353246594