KAATO is a Nashville, Tennessee based rock band, made up of Kurt Lowney (vocals), Mika Nuutinen (bass), Hunter Lovan (lead guitar), and Christopher Williams (drums). Originally from Australia, the band was founded in 2011 by singer/songwriter Kurt Lowney. KAATO had their first international tour co-headlining with Mitch Malloy in the UK after their self-titled album was released in 2016. Kurt and Mika made the move to Nashville permanent, in 2018, and started work on their newest album "Slam!" from their home studio, which allowed them to fine-tune their sound until they got exactly what they wanted. Glam rock, Vintage rock, Classic rock, call it what you may, but this standard of rock authenticity in the modern age is hardly ever achieved by lesser bands. If KAATO was dropping their brand new single – "Somebody, Someday", which is taken off their "Slam!" album – during the eighties, they would have achieved mega status.
Fate would have it that the band are forced to exist in an era dominated by computer-aided music and pseudo street preachers. Thank the stars this doesn't stop the band from pursing their own lane and bringing joy to millions or nostalgic hard rock fans. With KAATO you'll find something heavy and powerful, with fresh and outstanding riffs, and well-executed vocals.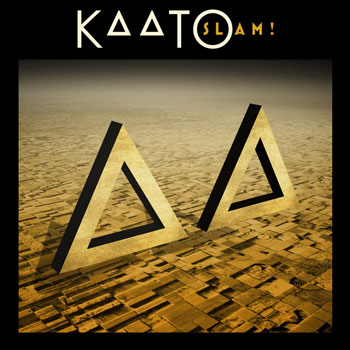 "Somebody, Someday", for instance, shows offs Kurt Lowney's range and summarizes his vocal performances very well. But the whole band is operating at peak level, and billowing with kick-ass dynamism.
For any other current independent classic rock group, the level of precision seen on "Somebody, Someday" would be uncommon, if not unheard of. That's not to say that the track is devoured by overproduced, compressed, crystalized sounds.
On the contrary – it's gritty and somewhat raw, all of which adds to the character of the record. This is a track with an overtone of distorted riffs, layered with a bright lead melody, surrounded by high-pitched and emotional singing, all while riding the currents of the banging and fluid rhythm section.
And in a way, Kurt Lowney's voice takes advantage of this, using his high range to play upon the listener's expectations and twisting them with screams, harmonies, and emotional cries that take the listener on an emotional journey which, in the hands of any other singer, might leave the listener feeling overwhelmed.
It's truly worth noting that, while the vocals and Hunter Lovan's explosive guitar take the prize for being most instantly noticeable on the track, the rhythm section really keeps the track and sets an incredibly stable ground for everyone to flourish on.
The active bass work of Mika Nuutinen creates a rapid flow of energy not usually heard on the bass line that adds an extra dimension to the song. Christopher Williams' drumming can heralded as inspired and tasteful, providing a deceivingly powerful and complex performance.
"Somebody, Someday" showcases KAATO technical strengths without flaunting them, asserts itself without being overbearing, and varies enough to stay interesting, but never deviates far enough to lose the listener's attention. Perhaps most importantly, however, it stays fun and enjoyable throughout while still managing to remain intelligent, intriguing, and fresh. Not bad for something called Vintage rock!
OFFICIAL LINKS: WEBSITE – INSTAGRAM – TWITTER – FACEBOOK – REVERBNATION – SPOTIFY