Justin Barnett was born in Boston and raised in South Jersey. Inspired by two of the people who have given him so much support over the years, Justin used his grandmother's middle initials (TK) and his father's middle name (McDonald) and became TK Mac. As a DJ, he's spun at various A-List clubs across the globe including Tao, Avenue, The Highlight Room, Marquee and Studio Paris. He's produced songs for Zak Downtown, Cade, Bryce Vine, and other new artists in the hip-hop, R&B, and pop genres. Now he steps out into the spotlight with his single "The Living Room".
There is something about TK Mac you can easily relate to in his music. You can just feel the emotion bleeding through the track. He makes music based on what he feels and not just to sell records and reach the masses. Though the catchiness and all the modern-day recording embellishments are loaded into "The Living Room" to make sure you remain captivated by the track.
TK Mac is definitely an artist who wants to carve out his own uniqueness in the game. This track seems to be personal and intimate in its narrative, with the artist showcasing his smooth, nuanced flow and melodic voice.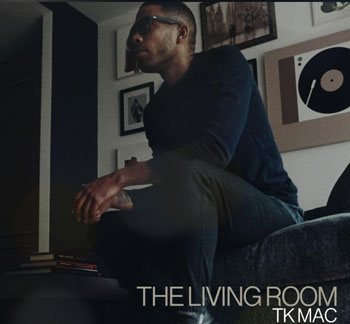 "The Living Room" gives you such a laid back, yet intensely emotional feeling. I have listened to this track repeatedly since it appeared on my desk and have yet to tire of it, and I can say that for very few artists. Replay value for this one is extremely high. Like Drake, and a handful of others, TK Mac works a convincing rapping/singing hybrid that prizes raw emotion.
For many, he will be a revelation, boldly shaping his sound with vivid production and profound lyricism. Honest in his lyrics, the artist approaches music in an unrestricted, pure manner that can easily be underappreciated until you slowly catch up to where he's going.
The production on "The Living Room" is, put very simply, a dark booming-bass trip. A trip into the subconscious of thoughts and emotions that the artist forges. TK Mac's voice is also a very important instrument in this song. He brings life to his words with the spot-on harmony made of a good singing voice.
"The Living Room" is one of those pieces of music that can be overlooked the first time around, for just a simple piece of modern hip-hop. To appreciate its sound thoroughly, you must enter the track and shut the door behind you. Take the trip with TK Mac as he shows you his heart and soul, in an effort to enter yours.
Gripping and thought-provoking – from the lyrics to the actual arrangement, this track takes you on a journey through a small segment of the artist's mindset.  It's rare these days for a new artist to come out with his own unique sound and TK Mac did just that. He certainly took his talents up to another level for "The Living Room".
OFFICIAL LINKS: SPOTIFY – SOUNDCLOUD – APPLE MUSIC – AMAZON