"Deep Down" is the new EDM single from electronic music producer Nachamuni, who is based in Vienna Austria. The track extends the reach of his signature sound. Most significantly, the Deep House track showcases a shift toward the high-minded, super-precise catchy pop production vibe of most modern electronic producers. The growling basslines have the potential to draw law enforcement officers to your doorstep, depending on the decibel level and kindness of your neighbors. Its structure dominates the landscape with both breathtaking impact and precision. The track refuses to recycle an old beat, gradually building from a melodic and soulful vocal intro, into a wave of intense electro-bass aggression, becoming a blistering rollercoaster that tosses the crowd from visceral joy to saw-jaw mayhem.
Not content, Nachamuni creates a massive drop in mid-song, making a powerful statement that he is capable of more than just entertaining hormone-fueled dancefloor addicts. He can take genre-defining characteristics of EDM and make them relevant to a group of listeners that are totally ignorant of its stylings.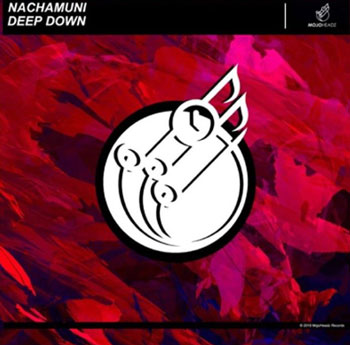 When it comes to knowing how to build an EDM track, Nachamuni excels, helped in a big way by his phenomenal attention to detail in regards to production. Those searching for something a bit more exciting, a bit more left-field, will find this release fulfilling.
"Deep Down," is filled to the brim with abrasive bass lines, quirky chord progressions, big banging percussion, and more than enough substance – the track demanding your attention, delivering unexpected twists along the way.
This is the sound of progression, and the production is at such a high standard that it is difficult to see this as the work of any less than a consummate professional. The track brings a brash energy, raw potential, and a streak of promise that is all fully mapped-out, and structured in a way which will assuredly leave the listener salivating with pleasure.
Where most underground dance producers are currently failing in what many believe to be an extremely stale musical environment, Nachamuni succeeds on almost every level. With "Deep Down", he has managed to create a listenable dance record full of his own productions stylings.
It would not be an overstatement to say that Nachamuni has raised the bar for what an indie electronic music performance can and should be – a pin-drop clear production, chunky chords, and hard, wide bass with a bounce.
What Nachamuni does really well and what makes this record so appealing is the marriage of melody and a thick club groove that sounds weightier than many other producers. Like it or not, Nachamuni is a talented music producer, and nowhere is that more apparent than on "Deep Down".
This is a total floor filler with an infectious groove. No doubt if the Austrian based producer continues churning out tracks of this quality, he will soon be earning a reputation of immense proportions in his field of craft.
OFFICIAL LINKS: WEBSITE – INSTAGRAM – TWITTER – FACEBOOK