Adam Stall grew up in the small town of Coldwater, Ohio, surrounded by a combination of a musically inclined family and friends, most of whom played an instrument of some sort. Adam began his own musical journey with classical training on the piano and trumpet at an elementary age. Structured by the sheet music of early school and private instructors, he dreamed of creating and composing his own music, while lending a keen ear to the likes of Led Zeppelin, Rush, Muddy Waters, Yes, Howlin' Wolf, and others. Adam went on to playing keyboards, and doing vocals in the local live scene. He also taught himself to play the bass and guitar during his college years.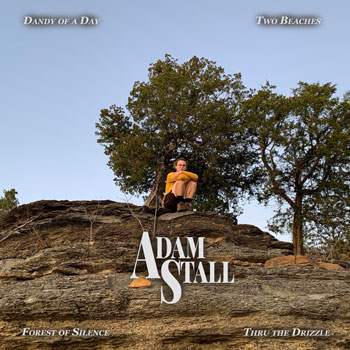 From March of 2020, Adam Stall started experimenting with the production software Logic Pro, working his way through all the experimentation, researching and tweaking to find the magical sound that studio create. He finally recorded everything (except the drums) from his home studio on the self-titled "Adam Stall" EP. The result is a crystalline, acoustic dominated sound, awash with classic rock nostalgia, and plenty of other retro goodness.
Exploding into life with histrionic vocal bursts and the beefiest of acoustic sounds "Dandy of a Day" snatches your shirt collar and drags you at full pelt into swirling bass-guitar lines and keen drums that hold everything together as Adam Stall's vocals soar into the heavens, with powerful traces of Robert Plant-like flair.
It's impossible not to imagine the vibrancy of vintage Led Zeppelin, on listening to this track. Adam's vocal runs and add color to the music, and gives such a solid grounding to the musical structures that surround him.
"Two Beaches" confirms all of the retro gorgeousness of the opening track, and then adds the sparkling jangle and fire of electric guitars and Hammond organs to the equation. Adam Stall is in complete control again, with his authoritative vocal melodizing.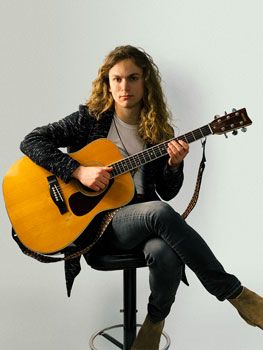 When you add to that musical flexibility one of the more exciting new rock vocalists to hit the scene in years, it becomes an intoxicating mix. Adam possesses a pungently angular voice that he can shape into a powerful majestic roar.
"Forest of Silence" illustrates perfectly Adam Stall's ability to mix things up at different tempos and moods. The song swoops and dives, with Adam really stretching his voice while never sounding out of control. He constantly pushes the tempo, as the song rolls, breaks and crashes while charging out of the speakers.
The complexity of the arrangement will have you pressing replay, again, and again. The floating vocal harmonies and crunchy guitar riffs merge together brilliantly, as the confidence of "Thru the Drizzle" seems to flourish into something completely at ease with itself.
There can be no doubt that Adam Stall takes listeners back in time to where music was warm, pure, raw and exciting. Upon the various listens, I can certify that this, on whole, is a great recording. I found myself drawn to the songs and all of their high points. These songs can be ranked, as classic and timeless as anything that came from the 1970's. The beauty of it all though, is that Adam Stall, and his music, exists in the here and now!
OFFICIAL LINKS:
Website: https://www.adamstallmusic.com/
Facebook: https://www.facebook.com/stallmusic
Instagram: https://www.instagram.com/adamstall.music/
Twitter: https://twitter.com/adamstall_music
Youtube: https://www.youtube.com/channel/UC-4JoeWiBzZNpQ711lPq-qg
Streams: https://www.adamstallmusic.com/landing