WINTERSTATE is led by singer-songwriter Kelvin Killmon (Seattle, WA), and multi-instrumentalist Alex Ortberg (Rochester, MN). The pair met as students at Berklee College of Music's campus in Valencia, Spain and have continued to write and record new songs together inspired by feel-good bands like The Killers, Mae, Anberlin, Incubus and Foo Fighters. Alex's tight, driving rhythms and clean, multi-layered approach to composition provide the musical bedrock for the band. Kelvin brings anthemic melodies and rich vocal harmonies to the mix. His insightful lyrics tackle an impressive array of topics – from small town love affairs to celebrating life in the face of chronic illness.
WINTERSTATE bring a vibrant, authentic pop-rock sound to their sophomore album TECHNICOLOR – released on January 14TH 2022. For the album's lead single – "On Top of the World" – WINTERSTATE enlisted the help of legendary Grammy Award-winning mix engineer Chris Lord-Alge (responsible for classics including American Idiot – Green Day, The Black Parade – My Chemical Romance), and mastering engineer Ted Jensen (Come Away with Me – Norah Jones).
How long have you been performing and recording as Winterstate, and what is your primary mission as a group

?



Alex Ortberg: Kelvin and I have been performing together since 2015 when we first met at grad school. As a full-fledged band, since 2019. Our primary mission is to just get our music to as many people as possible, and maybe change some lives (for the better) along the way. A lot of what Kelvin writes for lyrics are positive messages, or dialogues on the current social / political / environmental situations. Hopefully something in our music will resonate with people!
Who have been your major influences in your writing and playing style?



Kelvin Killmon: I feel like a lot of my heroes growing up still have a strong influence on the music I write. As a kid I was a huge fan of pop-rockers like Dashboard Confessional, Goo Goo Dolls, Fiona Apple, and My Chemical Romance. I also love dreamier and darker bands who rose above the fray during the nü-metal years; groups like Incubus, Deftones, A Perfect Circle, Chevelle, Taking Back Sunday, and Thrice.
Alex: As a drummer, my influences range from Neil Peart (Rush), John Bonham (Led Zeppelin), and Keith Moon (The Who), to Gavin Harrison (Porcupine Tree), Todd Suchermann (Styx), Tommy Igoe (WIM Trio / Tommy Igoe Groove Conspiracy), Dennis Chambers (Parliament-Funkadelic), Dave Weckl (The Dave Weckl Group), and Carter Beauford (Dave Matthews Band). In terms of my writing, artists like The Foo Fighters, The Maine, Anberlin, Mae, The Classic Crime, and Angels & Airwaves have been some of my favorite sounds coming out lately.
If I was to turn on your media player right now, which artists/songs would I most likely to hear on your recently played list?
Kelvin: Some people might be surprised to find out that I'm obsessed with world music, both traditional songs and contemporary pop. Lately I've been enjoying the new singles from Belgian singer Stromae's new album "Multitude". There are so many interesting rhythms and cross-pollination of musical traditions in his music.
What do you feel are the key elements in your music that should resonate with listeners?



Kelvin: I think that there's something rebellious and exciting about rock music that almost everyone can appreciate. We try to write songs with catchy choruses and relatable lyrics that are fun to sing along with!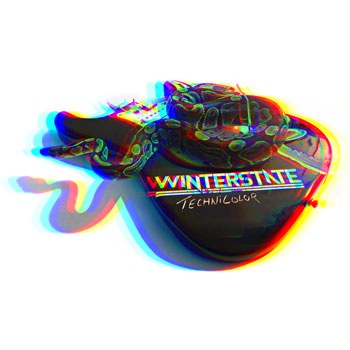 With the music industry always changing and evolving, what are the things you like and do not like about it currently? And if you could change anything about it, what would it be?



Kelvin: I love that the music industry is becoming more democratic. At this point, anyone can distribute and promote their music without needing the support of a record label. On the other hand, I'm really disappointed with the move to streaming, rather than purchasing music. Daniel Ek (the CEO of Spotify) is worth 3.6 Billion dollars, but artists only receive between $0.0033 – $0.0054 per stream. When you stream music, you're giving your money to the ultra-rich, rather than supporting the musicians who spent years working so hard on that record.
What's your view on the current state of rock music in general?

Alex: It's definitely not the primary genre that people are listening to anymore. Which is totally fine, but it makes it harder for bands like us to get radio spots on pop radio stations. Then again, The Foo Fighters are doing it. So that gives me some hope!
Kelvin: I'm a little more optimistic. I think people have missed the sound of guitars, and we're seeing more rock influence creep back into mainstream radio. I'm keeping an eye on all of Travis Barker's projects, and pop-rock crossovers like Meet Me At the Altar.
Do you write songs with current musical trends, formulas or listener satisfaction in mind, or do stay focused on your own musical vision, and trust that your audience will follow?



Alex: We write songs that we think sound good, and try not to follow any trends, mostly because they're not sounds we enjoy, or that would fit well with our sound. If people like our music, then great! If not, that's okay. But I feel most of it is very accessible, especially with audiences of the same age as us. It should feel somewhat nostalgic for them.
Could you describe your creative processes? How do you start, and go about shaping ideas into a completed song? Is it a democratic process between the members, and who does what in the band?
Kelvin: Sometimes Alex sends me a pretty fleshed out instrumental demo, and I write the top line for the song. Other times, I come to him with an acoustic demo (usually just voice and guitar) and he builds the track around it. I think it's nice that we both bring our own unique style of composition – and through the process of working together those songs develop in all sorts of beautiful and unexpected ways.
Where did you do most of your recording and production work for the album "Technicolor", and who was primarily involved in these processes?



Alex: I do almost all of the production and recording work for us at Blue Lagoon Recording Room in Rochester, MN. Kelvin will record his parts at his place in Seattle, and send them to me to mix in.
Is there a particular song on the album "Technicolor", in which you feel the band delivered its most perfect performance, on all levels? And is there maybe one song that you keep thinking you should have done a little differently in some way?
Alex: I think Pariah is a really well done song. Even though it might not be the most accessible one on the album, all the parts are locked in together, and the bridge is one of my favorite parts of the whole record. I'm always wary of my vocal tracks, because as a musician, a "singer" is the last thing I would call myself. So Threading The Needle is one that I'm never completely satisfied with, mostly just because of my vocal takes. But I wanted it to be a 3 part harmony between Kelvin, Amanda, and myself, so I recorded the part instead of Kelvin. I love that song, just not my vocals so much.
Kelvin: Personally, I think Alex's vocals sound great on that song! My favorite performance on the album is "Empires", though. There's something so beautiful and emotional about that track, and I feel like it's the perfect way to finish out the record.
Which would you indicate as the highlights for fans to watch out for on the album "Technicolor", and is there an overarching theme or backstory to the project as a whole?
Kelvin: I think there's more urgency on this record. The radio interludes feel increasingly foreboding at the record develops. At the same time, a lot of our songs are about imploring people to get involved with a broader community and to help make the world a more equitable place. What were a few of your favorite tracks, Alex?
Alex: Daylight, Technicolor, On Top Of The World, Pariah, Keep Your Friends Close, Magazine, Empires. With an honorable mention for Frankly, My Dear.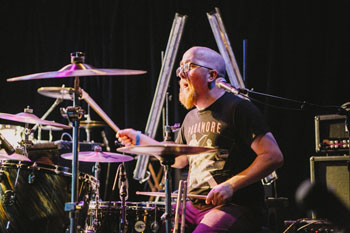 Could you tell us something about the making of the album's lead single "On Top of the World" which boasts Grammy Award-winning mix engineer Chris Lord-Alge behind the boards

?



Alex: So this is one of my favorites on the record! It turned out really really well. This was one where Kelvin wrote the song. He sent me his vocals and an acoustic take of the entire song, and I put the rest of the band to it. I was really into Angels & Airwaves' record "I-Empire" at the time, so a lot of the guitar and drum work was pulled from that. After it was all done, I was never satisfied with how I was mixing it, because I thought it deserved to sound better than what I was doing (now, I might be able to do better!). So I decided to contact Chris Lord-Alge. I was looking for him to mix the song, but also teach me what he was doing along the way. He agreed, surprisingly! So we had 2-3 Zoom sessions where we went over his process and he mixed the song for me! It turned out amazingly, I learned a lot, and now the song sounds like it deserves to sound!
How important are the lyrics in your music? Is it something you pay particular attention to, or are you more focused on the musical and technical elements displayed in your compositions?



Kelvin: I'm definitely biased, but I hope that people take the time to connect to our lyrics. I try to steer away from cliché topics and love songs and explore other types of stories. On this record we have songs that touch on themes of environmentalism, examining narcissism, recidivism in the criminal justice system, loneliness during times of success, both the dark and the silly sides of social media, and confronting difficult thoughts during the pandemic. Every song will have a lyric video on our YouTube channel, which I strongly encourage you to check out!
Do you think it's important for fans of your music to understand the real story and message driving each of your songs, or do you think everyone should be free to interpret your songs in their own way?
Kelvin: I think everyone is going to take what they want from it. We care a lot about spreading a message of joy and tolerance, and we believe in using art to help cultivate an appreciation for all the beauty and intensity of life – but beyond those core beliefs, I think it's cool when people to find their own meaning in the music we make.
Putting aside the accolades or criticisms that fans or the media may afford Winterstate, is there anything about the band, or your music, you think people may overlook, misunderstand or underestimate at all?
Alex: I think there's a certain image people attach to the phrase "rock band". And I don't think it's a very accessible image. Somehow I think people who listen to pop radio or top 40, think that "rock music" is too heavy for them, or not what they would want to listen to. Which is totally fine, but I think it gets dismissed before it's even heard, simply because of the label of "rock". In reality, there's a lot of our music that is rooted in pop. On Top Of The World, Magazine, Daylight, and Technicolor are all pretty pop-y in their own ways. Our previous record even more so! Hospital Kicks, Followthrough, Wildfire, Varsity… all have very pop-y elements to them.
Kelvin: I think there's also a toxic obsession with youth in our culture. Pop stars are getting younger and younger – and I think a lot of that has to do with who has disposable income. Right now, tweens spend a lot on entertainment – so teen and tween voices are elevated in media to boost sales. I believe that people in their 20s, 30s, and beyond still make great art and have amazing stories to share. I don't want people to write us off because we don't have a certain "look" or fit into an age bracket. Just listen to the music we make, and make your evaluation based on how the record makes you feel.
Creative work in studio environment, or interaction with a live audience? Which of these two do you ultimately prefer and why?



Alex: As a studio owner, I love studio work. But as a musician, there's nothing better than playing in front of people. Not only that, but playing with other musicians that really understand each other musically and can communicate on an intimate level while playing, that's something really really special.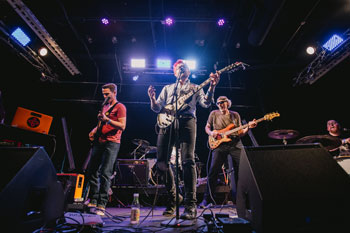 What is the best piece of advice regarding the music business that you actually followed so far, and what is the piece of advice you did not follow, but now know for sure that you should have?



Kelvin: I think a lot of musicians assume that if they make some recordings with high production value, and they're satisfied they've made a "good album" – then they expect that the fans and money will pour in once the recording process is finished. They say "90% of music is marketing" but I think it's closer to 99. Branding and publicity is paramount, and once the music is finished the real work begins.
What would you consider a successful, proud or significant moment for Winterstate so far?



Kelvin: Well, this new album "Technicolor" has been added to rotation on 60+ college / AAA FM radio stations all across America! I'm very proud of our music reaching that wider audience.
On the contrary, what do you feel has been the most difficult, and trying moment for Winterstate so far?

Alex: Our entire existence as a band is more difficult than most, I think. And that's not meant as a woe-is-me statement. But the two main songwriters of Winterstate, and really the core of the band, live across the country from each other. So there are some things we cannot do that a normal band can: rehearse, gig regularly, be in the studio together, write songs together in the same room… so it's a very unique process for us in terms of propelling ourselves forward as a band. We rely on the musicians that we choose as a band to be prepared when we do gig, we schedule gigs around travel dates for either Kelvin or myself, we write music over the internet and across the country… We one day hope to live in the same city, or even state, so that these things won't get in our way anymore!
Kelvin: I thought it would be fun to do a remix and cover contest for this record. We put up $750 in cash prizes and invited people to submit a video or recording of them putting their own spin on one of our new songs. Unfortunately, no one submitted so all the prize money went unclaimed. It goes to show that you should always try – because if a single person had entered, they would have won by default.
As a band, do you have a specific musical vision or goal that you want to achieve in the near future?
Kelvin: I think we would love to see our music placed in a TV show or movie. We're also planning on playing a lot of shows this summer, and it will be a lot of fun to finally reconnect with our fans. This pandemic has made us appreciate sharing our music even more, and we can't wait to see you on the road!
OFFICIAL LINKS:
Official Website – https://winterstateband.com
Purchase the album Technicolor – https://www.amazon.com/gp/product/B09L8N4J1M/ref=dm_ws_sp_ps_dp
Facebook – https://www.facebook.com/WinterstateBand
Instagram – https://www.instagram.com/winterstatemusic/
YouTube – https://www.youtube.com/kelvinkillmon