NEW YORK, NY– Rosalee Laws aka Renaissance Woman Rosalee aka MOMMMRWR has just released Breathe, featuring Kxng Crooked. Rosalee is not just a musician or even just an artist – she's a poet, healer and spiritualist who uses multiple forms of artistic expression to offer soothing seeds & salves for the soul. As she likes to put it "Soul" to "sole." She's been described as a multi-dimensional poet, lyricist, rapper, medium, spiritualist, and entrepreneur, and her latest project "Rebirth" is yet another hit of higher consciousness spiritually-laced entertainment that she said is sure to help anyone who has ever been a victim of life's unwanted trauma and drama. Rosalee recorded the song during the night only months after her only child was born, having still not slept through the night since the birth but as an outlet for her own trauma. 
The single Breathe features Kxng crooked. The new album Rebirth features featuring me – DMX, Snoop Dogg, Kxng Crooked, Killah Priest, DMC, Kurupt, Planet Asia, prod by Anno Domini Nation, Legion Beats and Holy Toledo Productions.
"I had so many personal life experiences and traumas. Most recently birth trauma and relationship drama, during a pandemic, coming all at once" but this album captures my anger and emotions from that experience. But more importantly how we create our own lives and how it is up to us to become who we want to be. "Don't die with your music buried deep inside," Rosalee says. "I wanted to put it out there because many who listen to it can relate to it on a variety of levels. All my life experiences I turn into healing processes or teaching processes for other people. But a lot of people have reached out to me since hearing this song and said it has helped them. But there have been mixed reactions. Even mean comments about my race.  But this period in my life was traumatizing and difficult, and as an artist, I knew I had to express myself in some way or form and if it could help others who have been through similar things, or others trying to heal and live conscious creative lives, it's worth it"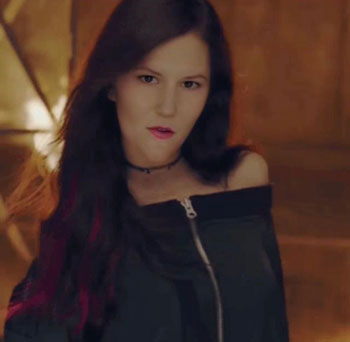 "Music was always the medicine for my own soul," Rosalee says. She was first shoved on stage at 3 years old in a southern Baptist church in Tennessee. Growing up she sung with her dad and sister in church till around age 10, multiple choirs, and dance choirs in middle school and high-school in New Jersey.
Originally born in  Tennessee, Rosalee then lived in New Jersey, Philadelphia, New York, and has traveled nomadically through India and Southeast Asia before settling into dual living between New York and south New Jersey again just outside of Philadelphia, just days shy of the pandemic.
Pulling from her Cherokee southern roots, various artistic, career, cultural, and life experiences, Rosalee has developed her music style with a unique, hypnotic voice, siren like lyrics. "Once I found my voice, I started using it to teach and to speak up for those who couldn't speak up for themselves," she said. "It's hard to express yourself when you go through traumatic experiences. Many people don't realize how painful those experiences are, and they don't know what it takes to overcome those situations. I just want to get my messages out. I make music and poetry to reach out to other people. I want to inspire people. I want to be known for inspiring people to heal and make changes in their lives, overcoming trauma and for empowering people, especially other mothers."
More than that, she's a conscious entrepreneur who owns several companies, including her branding and marketing agency, The Business Building Bakery. Her spiritual counseling practice as MOMMMRWR, a trans-dimensional entertainment platform known as  #renaissancewomanmusic and the holographic entertainment figure #Rosaleesa. She also has a nonprofit organization called "The Cordelia Hope Foundation" that she formed after the death of  her 10 year old niece in 2016, who had Downes Syndrome and Moya Moya, for the purpose of "transforming the education system with kindness and the changing the baseline skills taught to children." She also started the Renaissance Leadership Network and incubator that looks toward the evolutions of conscious leaders and creates physical art as an independent artist. Truly a Renaissance Woman is Rosalee.
Listen to Breathe on the new album Rebirth. Or the newest single Message part 2, just released December 21st, featuring Bronze Nazareth of Wu Tang, and Produced by Anno Domini Nation. To listen to Renaissance Woman Rosalee's music, or to follow her on social media, please visit the following links:
Rebirth can be found anywhere you stream your music go to https://portal.reveldistro.com/smartlink.cfm?MTAwMDAwMzU1MDcw or search for "Renaissance Woman Rosalee"
Other Links
https://www.renaissancewomanmusic.com
https://m.youtube.com/c/RosaleeLaws
https://www.instagram.com › rosal_ee
https://open.spotify.com/artist/71AhSqXB6KjoAxdwqMtCwj#context
https://m.facebook.com/rosaleelaws/
https://vm.tiktok.com/ZMdfVaaya/
https://mobile.twitter.com/roebeauty?lang=en
https://music.apple.com/us/artist/renaissance-woman-rosalee/1553517299
https://co.pinterest.com/rosaleemichelle/?amp_client_id=CLIENT_ID(_)&mweb_unauth_id=