Listening to any Nelson King record is an immersive experience. Few are able to match his exact blend of wit and melancholy, the uniquely British charm that cannot be faked or manufactured. Hailing from Brighton (UK), King is a singer-songwriter of the highest standard. His alternative rock stylings are driven between gentler acoustic leanings and crunchier electric flavors. A prolific artist, Nelson King has independently churned out a number of critically albums over the last few years. His music's secret weapon is its mixture of catchy hooks and heartstring-tugging lyrics, which makes him one of the most underrated singers and songwriters working today.
Nelson King now drops his latest album "Visions", which should be officially on all global platforms by 24/02/2022. King is a hybrid mix of Bruce Springsteen and The Smiths, a blend of emotional Heartland rock and edgy, penetrating Brit rock. King is savvy enough to know that the line between familiarity and evolution is a fine one, so he manages skillfully to navigate change while hewing to his basic template.
On "Visions" many of Nelson King's familiar elements are present, from his soaring vocals and rousing, triumphant choruses to the frequent dirty jangling guitars that underpin them. The songs themselves are vintage King, often beginning quietly but driving inexorably to those yearning choruses that he does so well, perfect for singing emotively with an impassioned fist over the chest.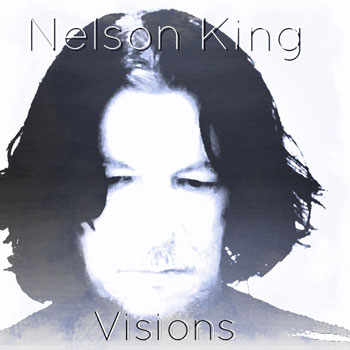 The album begins with "Bright Lights" which opens with the jangle of the guitars and Nelson King's mood-inducing vocals. "Strong" turns up the acoustic guitars and King's knack for melodic songwriting, while the guitar strum remains both dominant and eloquent on "The Road", with King's brooding vocals maintaining the mood. This is another dependable and consistently impressive song, like most of King's catalog.
"Run Light Up" has a grungy and urgent feel, as the chugging mid-tempo guitars underscore Nelson King's gravelly breathless vocal. A bare-it-all work showcasing the most observant and sensible King you have ever encountered. "Word Is Out" falls somewhere between ZZ Top and Dire Straits with its abrasive blues-driven groove and its downtempo vocal. It's clear from the storytelling that there is a sensitive person inside the rock exterior.
With all of that said, Nelson King's vocal performances are amazing all throughout the record, almost without exception. His nuanced voice is really his strongest point. In his instrumental work, King is rather incredible in the framework of his guitars, and it is perfectly displayed on the languid "Blue" and then on the subsequent upbeat strum of "Jive On". The guitars are even more expansive on the driving rhythm of "Higher" which is an album standout.
Lyrically, Nelson King makes some profound statements throughout the album, and shows the same maturity that was previously seen from him on earlier releases. Songs like the easy listening swing of "Reaching Out" and the angular Bowie-like chug of "World Say Hello" show the scope of King's songwriting. Nelson King has clearly taken influence legendary songwriters in his field, and has definitely come out on top as a result.
If anything, "Visions" shows that Nelson King can knock out an effortless home run when he wants to, using an array of organic instrumentation. All of which makes him such a compelling and fearless artist in a time when electronic music rules the roost.