In the world of Shayla K, nothing is conventional and you have to give her props for carving her own path. She is a prodigy, equally adept with her filmmaker's camera, or a songwriting pen, as she is with her vocals. Given the proper opportunities, in a normal world, she would be a star. If being dark-skinned isn't enough of a burden to carry in the entertainment industry, being a woman certainly is. Having said that, her talent, hard work and determination, will not go unnoticed. Shayla K takes center stage on her single project "Rain" produced by Jiggy Jay, and with one listen, it is apparent she worked meticulously to craft this track.
Shayla K's voice suits the production of the song perfectly. Featuring emotional strings and a warm bass line, listeners are instantly drawn into the singer-songwriter's world. From the swirling heavenly flurries of her full vocal tones, this recording is a lesson on letting style and substance exist hand in hand, where a sonic world can be all things all at once. Shayla K knows where to evoke vocally and where to let the music do its business.
It's easy to hear the fluidity of the ideas, as Shayla K sparks electricity with her own, pure brand, unaffected by any of the mainstream radio zeitgeist. Of all the burgeoning pop divas in this world, Shayla K knows how to craft a line to make your ears open and allow the words to slide down into your soul. Throughout "Rain", the silky smooth atmosphere lures and seduces with femininity and passion, while Shayla K's voice conveys with cadence and sultry power.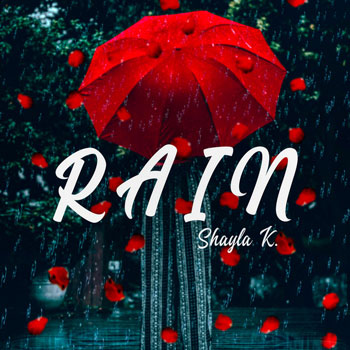 Shayla K articulates the natural and instinctive way she feels connected to her love interest. She flexes her storytelling and lyrical prowess, turning phrases into vivid images, and ultimately emerges as a self-assured and necessary voice in R&B, and Soul music. More than that, she is an artist with a focused vision, and due to her prowess, knows how to write songs that adhere and expand upon that vision.
Right from the opening bars of "Rain", Shayla K excels with her vocal performance, managing to play with her timbre to accentuate the different moods and vibes across the project. Her approach to this song is decidedly poignant, sophisticated and soulful.
Her voice is her instrument, forming a sublime layering across the elegant arrangement, which also features subtle horn interludes. In fact, The production on "Rain" is gorgeous, and weaves a mesmerizing chemistry with the vocals.
"Rain" is produced with immaculate grace, with Shayla K using its succinct span to construct a tour de force of forward-thinking R&B. She distills the atmospheric soundscape into a palette of strict finesse. Its a prowling display of artistic and personal confidence. Moreover, Shayla K also directs the impactful video alongside co-director Rebecca Marcela, which introduces the ballet dancer Rasha Guerrier.
"Rain" positions Shayla K as a renaissance woman in the modern music industry – a singer, songwriter, film producer, photographer, and overall creative. Her moment is looming up ahead on the horizon. It won't be long now…
Connect with Shayla K @iamshaylak