Justin Osburn & Bobby Nil, were born and raised in Memphis, TN, and currently reside in south Florida. Both long time musicians, metaphysicians, philanthropists and humanitarians, they release music under the brand name of The Low Highs. The core duo effortlessly craft deep atmospheres and dream pop qualities, with a unique nod to indie, alternative, psychedelic and post-rock flavors on their current releases. However, to put them into any one stylistic box would be an error, as they crossover into a varied number of genres. Where you think they're going with their sound aesthetic, will depend very much on your own music listening experiences and personal mindset.
Their debut single, "Shoreline", features Dick Aven's soulful saxophone over a shimmering, dreamy canvas and Paul Crosby's steadfast drumming. Behind the sensory capacity of its textures, the single is structured around excellent chord progressions. This gently meandering soundscape can swallow an entire room with the warmth of its musical aura. The echoey, melodic lead vocals, combine beautifully with the music to deliver as much charm as possible.
"Shoreline" largely works as one engulfing sound, with all the elements weaving together for a seamless and blissful daze. This song has elements that definitely hark back to a better time in music history, when compositions were based more on artistic ambition than on commercial gain. Everything sounds unforced, necessary, and the consequence sensible musical logic. The song flows smoothly and effortlessly to its conclusion, wrapping you up inside its sweeping sonic ambience.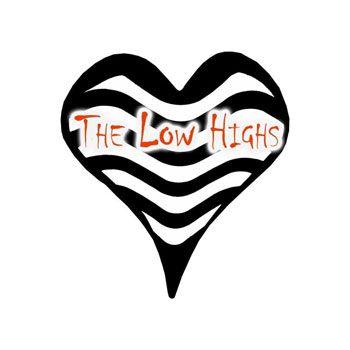 The latest single, "Don't You Ever", maintains the same compositional sophistication as the debut track, but adds a bouncier head-nodding beat to its arsenal. Though more rhythmic, the new record fits snugly inside the band's refined sonic canon.
The song is conspicuously shaped – lyrics are legible, guitars are crisp, keys are shimmering, drums are banging, and the vocals harmonize in sumptuous layers.  Its surface-level simplicity only serves to highlight how smart The Low Highs are as songwriters.
The Low Highs music sort of feels familiar, and that's what makes them so alluring. Their music is so great because it feels like something you had heard before – a distant memory of classic and legendary records long since forgotten, but you just cannot put your finger on it.
Yet at the same time it sounds fresh and cutting-edge. It is like the soundtrack to a vivid memory that can be defined by pure emotion and texture. The Low Highs music is held together by how thoroughly layered it is, but also by how easy it is to listen to.
Unlike many of their contemporaries, The Low Highs sound is one that is captivatingly pleasant, their audio mixing techniques are used to create welcoming soundscapes. And welcoming, is the exact word that I would use to describe both "Shoreline" and "Don't You Ever".
These songs slowly but steadily draw you in, and drag you down the rabbit hole of their evolving sounds. The band's melodic and thoughtful sonic template is perfectly exemplified in these tracks. It is a genuine statement of lyrical expression and artistic intent from The Low Highs.
OFFICIAL LINKS:
Facebook: https://www.facebook.com/thelowhighsmusic/
IG: https://instagram.com/thelowhighs?utm_medium=copy_link
YouTube: https://youtube.com/channel/UC–ZffztxDqvhHOHvKIksEw
Spotify: https://open.spotify.com/artist/5YebB3OpxL0T11oZGZZuzn?si=IQxl0-BcTEq-waKXc0Bbbw