Alan Kay is a rare artist in the sea of mediocrity that propels present day rap and hip-hop. A late bloomer to music, only being in the game for a few months, Alan has already been raking streams across multiple platforms. His single "p3rk" attracted so much attention that Alan was inspired to record an acoustic version for his EP, "Life Sucks & Then You Die". The EP contains a powerful blend of rap, emo and alternative sounds. Here Alan Kay finds fertile ground to emphasize his emotional-dripping melodies over all else. The lyrics here are also very strong, and compliment the serious tone of the project. This record is very personal, and in such an intense climate, Alan Kay is in his element.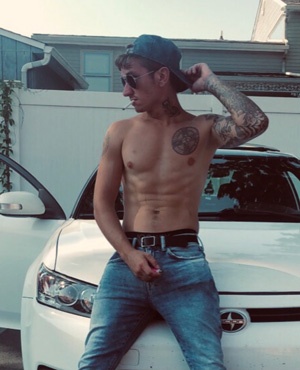 "Life Sucks & Then You Die" covers all bases; it's insightful, angry, passionate, unrelenting, afflicted, and at times witty, and always on the nose. Something particularly special about this record is that there are some fantastic flows throughout. Probably some of the strongest Alan Kay has ever recorded, typically delivered in powerful and emotional cadence. If you're intrigued by personal struggles, and contemporary societal afflictions, this record will resonate with you.
The opening track, "Jumper" quickly lays out the emotion-filled sonic and thematic template for the EP. "I feel a little sad over something. Don't know what it is, must be nothing. I take these pills because I'm running. Every time I see a bridge, I feel like jumping," sings Alan Kay, as he unfolds the weighty narrative.  The production is crisp and clean with virtually every note accented. The arrangements of the songs on this EP are richly organic sounding, despite the electronics and the skittering hi-hats.
This could be considered a detriment to a lesser artist, but here provide the perfect vessel without managing to clutter the delivery of the messages and stories. "Soul Like Mine" is awash with dirty, jangling guitars and Alan Kay's nuanced and soaring voice. It submerges the listener into deep crevices of self-destruction for the purpose of understanding the self and the pitfalls that doom us. The rapper somberly spews line after line of warnings and resolutions.
The record continues to alternate between moderately paced, confident declarations of fault, and slower, more vulnerable attempts at understanding the reasons why. Each song is sprinkled with luminous energy underneath the gloom.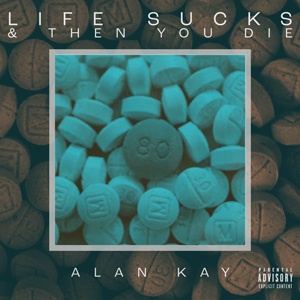 "Tattoo" is a journey that explores what comes after the lowest point when losing a sentimental interest. "I remember when I used to have you. Now all I've got left is this tattoo," sings Alan Kay. "Bitch you put me in a bad mood. I'm taking these pills because I have to," he continues.
Here, Alan is in rare form, chronicling his destruction in a way that shows his acknowledgement of the path. "Hard Pill 2 Swallow" continues to elaborate and externalize his problems and struggles within the flow of life events.
His singing has never sounded better and his lyrics have never been more honest. "It's a tragedy, all this pain and agony. Everyone I know is mad at me. Keep on saying drugs are bad for me. Bitch I'm high because I have to be," exclaims Alan Kay.
The EP closes with the acoustic version, of the highly popular single, "p3rk". Alan Kay's efforts to detail his struggles and mindset, in a precipitating and painful situation, is extremely touching, within song that cuts straight to the bone, with just an acoustic strum in the backdrop.
All across, "Life Sucks & Then You Die", Alan Kay has explored the shapes of addiction, loss, longing and a permeating wave of depression, in a devasting and affecting way. Making this recording very hard to ignore.
OFFICIAL LINKS:
Instagram: @a1ankaymusic
TikTok: @alankaymusic
https://open.spotify.com/artist/7KARNYQZORDXiXRfwZ2yaC?si=l7p6TKNMSO2mZNnk0mWSyg
https://music.apple.com/us/artist/alan-kay/1609946290
http://www.alankaymusic.com