Damian Simmons aka IntrovertDAME is an independent artist, rapper, recording engineer, songwriter, producer and author. On his new EP, "No Secrets to the Grave", the artist eschews mainstream cloning and creative limitations. Its technically hip-hop, but it goes much further, in all sorts of musical directions. The vibe here is decidedly eclectic, building upon the kaleidoscopic method IntrovertDAME has employed over his previous releases. The 7-track recording exudes a sense of artistic freedom not heard on many contemporary releases. The music feels distinctly international and unhindered, far removed from the straight-ahead mainstream bang his counterparts tend to make.
IntrovertDAME has always created on his own terms, but "No Secrets to the Grave" feels like a definitive move away from the prevailing industry's creative and commercial limitations. The rapper's latest is musically varied and vocally impressive, revealing an artist who continues to cut boring clichéd elements out of his songwriting and dig closer to the core of his style. IntrovertDAME's voice – nuanced, dynamic and crystalline – is among the most distinctive around right now. He slips into lilting theatrical flows, most artists wouldn't even dare to doing.
IntrovertDAME carries each song with robust performances that he plays out in daringly different ways – often technically impressive, and always appropriate for the production. The EP "No Secrets to the Grave", sounds more like a movie rather than a simple hip-hop recording.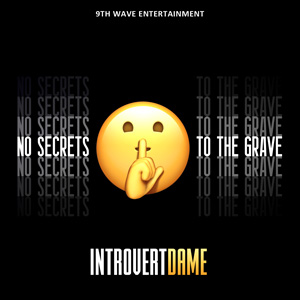 Rather unusually, the opening track, "Need It Paid", first introduces us to the excellent feature Xenova, before it does IntrovertDAME. However, from that point on, we witness an escalation of the rapper's unstoppable vocal skills.
The beat on "Knock It On", delivers more booming finesse, leading to a dexterous performance on the mic from IntrovertDAME. Moving ahead, there is no letting up, as the rapper's flow becomes even more urgent and rapid-fire on "No Regular". His pronounced vocal syncopation on "1 out of 4", efficiently enhances the rhythmic push and pull of the track. Its metronomic, even mathematical cadences make sure that not a single syllable is out of place.
"You Fly" is one of the most fascinating tracks on the EP, with its jazzy, soulful demeanor, and its eclectic, expansive delivery. IntrovertDAME likes to lean on thespian tropes, but he invokes them with purpose. As he does on "Stir Them Up", where he rolls with a smooth laidback flow, and a resonating bottom end in his voice. In some instances, this has the effect of making him seem extraordinarily unfazed by the world around him, as he follows his muse.
All throughout this recording, IntrovertDAME gives his topics and themes unusual and personal twists. When he talks about love, lust, desire and sex, it has a completely different sound to the normal misogynistic tropes heard in the genre.
IntrovertDAME closes the EP with "Who To Call", once again showcasing how he elevates typical rap themes to essential listening. His seemingly offhand, but impacting conversations, will remind listeners of how hip-hop, in essence, is still strongly lyrically-bound, despite all the extraordinary production sounds, which drive these songs.
Connect with all things IntrovertDAME – https://linktr.ee/mydjdropbox