Ihateyoujonny does not miss a step on production, throughout the album "Felonies", using everything from synth propelled anthems to dark percussive driven beats that allow featured rapper Thatguybula to flex on all different styles while making the album sound cohesive from the first hardcore flow to the outro melodic banger. The rapper has the lyrical skill of the times, finding ways to keep his bars on brand for the album, while still hitting the topical notes to keep it with the moment. This synergy makes Ihateyoujonny and Thatguybula a deadly combination on "Felonies"
The production work by Ihateyoujonny solidifies not only him being one of the most consistent and explosive producers in the underground game with a fresh but full-bodied discography that keeps growing, but also certifies that even though his is still under the radar, Thatguybula will put just about every other current rapper in a body bag. Fully committing himself to his craft, Ihateyoujonny has released one of the best hip-hop projects of the year in the peerless and supremely focused "Felonies".
Ihateyoujonny has made sure to deliver exactly the right statement to follow up his "Broke Authors" project. Right from the opening track, "What Can You Do", James is as focused as ever, laying down a foundation that allows Thatguybula to strike like a viper on the mic, his abrasive flow perfected to the point of bending the track entirely to his will. "East Atlanta" is dark and somber with skittering hi-hats, dynamic percussion and warm keyboard stabs.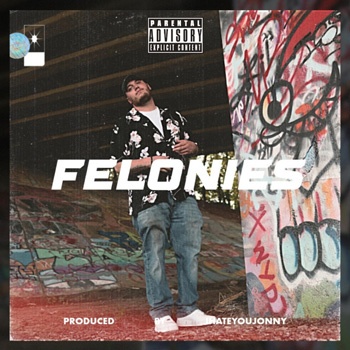 "Chaingang" rides on a repeating mesmeric synth motif leaving plenty of room for Thatguybula to unleash all of his confrontational vocal aggression. "Fuck Your Squad" ft. ThatGuyBula, Leisureraps & DotComrie, takes things to a high level of vocal intensity. Underneath Ihateyoujonny unfolds a thumping kick-drum, rumbling basslines and shimmering keys.
The title track, "Felonies", shows ThatGuyBula not surrendering an ounce of his perspective, as he sticks to his lived-in tales and close calls backed by supreme sense of victory, which he confirms on "Prove It". Ihateyoujonny rolls out the piano in support of the trap hi-hats on "Ridin Tonight", as ThatGuyBula reps the idiosyncrasies of Atlanta.
At the halfway mark, it can be said that Ihateyoujonny has expanded the dynamics of his sound ever outward, which makes for an album that is somehow exactly what you would expect and want, yet entirely surprising. Put simply, it's a powerful affair, regal and triumphant, the producer all but laying out the sonic red carpet before ThatGuyBula. It allows the rapper to sit comfortably tight in the pocket of each song.
ThatGuyBula's verses continue to be robust and explicit in "On My Shit", as he seems to feel each track could be his last chance to get out the endless thoughts on his mind. The warmth of Ihateyoujonny's production and the melodic menace of ThatGuyBula's voice and words form the backbone of both "From The Back" and "Know Me", making for a truly unique, stellar journey, beguiling and ominous at once.
This second part of the album "Felonies", sees ThatGuyBula's use a set of melodic, singsong deliveries, which shows the breadth of talent. These captivating and euphonic deliveries are palpable on "Just ForMe", "Never" and the closer, "Thank God". Overall, this is an album that feels deceptively immediate. Ihateyoujonny has opened the doors wide on this one, inviting us in without restraint, right into his slickly creative and bubbling vision.
Based in Atlanta, Ihateyoujonny started out his musical journey at the age of 11. Starting out with the drums, through the years he played in various bands, while learning to play other instruments along the way. Today as fully-fledged producer, Ihateyoujonny emerges in a more empowered position than ever before with "Felonies", where he delivers the perfect set of beats, inspiring high-level rapping from ThatGuyBula. "Felonies" is well-rounded, sharp and banging album with no skips, served up by a producer and rapper who understand what it means to deliver a high quality product.
OFFICIAL LINKS:
www.ihateyoujonny.com
Instagram: @ihateyoujonny