What's most compelling about the EP "No God On Cap", is that Turncoat is on par with his peers, and sometimes even better. He brings substance. He brings style, and tons of vibe. He delivers vivid, almost cinematically styled storytelling. He drops fire bars, and can sing in a soulful mellifluous croon when needed. In a nutshell, Turncoat is the epitome of versatility. However, if you're already thinking along the lines of: "Jack of all trades, master of none," you would be completely wrong, as he excels in everything he does on this recording. Intentionally or not, "No God On Cap" aims to establish Turncoat's place in the underground rap scene and see him make a name himself, which he should successfully achieve, considering that his artistry cannot be denied.
"No God On Cap" is a very enjoyable and surprisingly cohesive project from the rapper. Consisting of eight tracks and spanning just on twenty-one jam-packed minutes, the EP perfectly encapsulates what Turncoat is all about – excellent production choices complemented with resonating bars, laser-sharp catchphrases, and moments of vibe-driven melodic bliss. Furthermore, Turncoat's songwriting talent is emphasized through his incredible aptitude for inventive rhyme.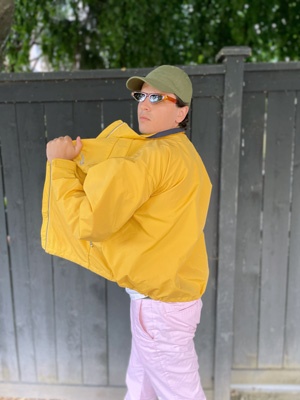 One of the highlights that makes "No God On Cap" such an enjoyable project is the abundance of flows that permeates throughout. This element makes the recording exciting and unpredictable on every listen and despite this, the EP is surprisingly cohesive even as Turncoat explores different vocal ranges and deliveries. It soon becomes abundantly clear that Turncoat is more than capable of originality, and also has the lyrical talent to back it up.
All of the aforementioned elements form the perfect foundation to the themes of the record, with its superb production and clear lyrical structuring. "Intro to Me" instantly slides us into the mood of the project, with a warm and smooth, but slapping production, underscoring Turncoat's super-nonchalant delivery. The brilliance begins on "Margaret Thatcher", with it's ethereal and lush backdrop in perfect support of Turncoat's mesmeric singsong delivery.
Turncoat's brilliance is soon elevated to an apex of total sublimity on "Mr. America", which in the intro, samples the classic track, "Don't Let Me Be Misunderstood". Turncoat unleashes his caustic lyrical strikes in defense of women rights, with phenomenal technique, and in a relentless fashion. This is one of my favorite tracks on the project. "Blue Devil Chasing", which follows, is designed to rattle your sound system with an ultra-low bottom end, and a liquefied lyrical flow on the top.
Awash with nuanced, vocal pyrotechnics and a dark throbbing beat, "Snake Oil" highlights another impeccable performance from Turncoat. The theme and wordplay is again of the highest order, as Turncoat never relies on the usual rap tropes, instead he digs deep into society's ills, and unraveling many of its ambiguities. By the time you press play on the hypnotic slow-burner, "Like Cobain", you will be captivated by the depth and breadth of this project.
"Adam and Greed" more than delivers on the promise of crafting Turncoat's own distinctive identity. If storytelling is an art you crave above all else in hip-hop, then you probably will not find a better example than this, around right now. This is flawless cinematic styled, nuanced narration, blended and crystallized into a rap song. Turncoat closes the project with another killer track, entitled "Okay Bet".
Turncoat grew up in the Northeast listening to The Black Eyed Peas, AC/DC, and Slim Shady, before falling in love with the lyrical prowess of Jay-Z, Kendrick Lamar, J. Cole, and JID. He's been writing rap songs for several years and "No God On Cap" is his first official EP in 2022. His distinctive voice and nuanced performances naturally stand out, revealing a lyrical precision and thematic depth that's head spinning, to say the least.
OFFICIAL LINKS:
Instagram: https://www.instagram.com/turncoat_rap/?hl=en
Streams: https://distrokid.com/hyperfollow/turncoat/no-god-on-cap