Over the last couple of years, Ware has quietly honed a lovely, enveloping sound. Welcoming and melodic yet capable of conveying deep emotional subtlety, the band's music can fit a number of labels, including, alt-pop, indie-rock, dream-pop, art-rock, and any number of others. While it's true that there's a heady, hazily pleasant quality to the band's music, their sound is far more grounded and organic than many other bands that get hit with similar tags. Eschewing the effects-heavy, lo-fi style endemic among their similarly inclined peers, Ware craft their tunes in startlingly easy-on-the-ear and straightforward fashion, staying firmly anchored in summery guitars-and-keyboards pop, conventional songwriting, and sonic precision while still setting a distinctly original mood.
Sounding both urgent and casually laidback. On "Seaside", Ware turn in a spirited and dynamic performance over a sun-kissed aesthetic. Mixed by the band and mastered at Abbey Road in London. The single describes the story of a nostalgic rendezvous at the sea. "I met you at the seaside. You came in with the tide. I met you at the seaside. I held you close. The wind and the salty air. The sun on your wavy hair," recites the opening lines.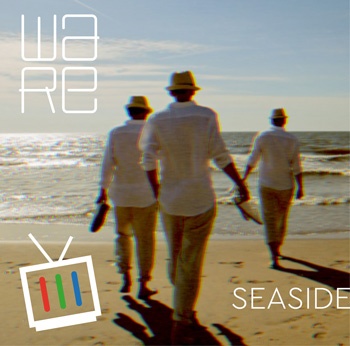 Effervescent, bordering on transcendent, the song swells and recedes, cushioned by the gently warped, jangle of the guitar, and capped with a beautiful vocal and steady, lulling drums. The guitar is used wonderfully throughout the track, offering a fullness that does not overpower the richness of the vocals and synths. Ware get an impressive tone out of the guitar, hitting a thickness on the notes that recalls surf-rock, while achieving a spry, pristine sound.
The music is atmospheric, instantly identifiable, melodically beguiling, and seductive enough to keep you coming back over and over again. Many will revel in the sheer musical artistry on display here. Ware shake up their bag of tricks and hone their mastercraft songwriting. "Seaside" is a record of expansiveness and growth, but there's also a sense of restraint. The work presented here feels completely effortless as the song unspools itself.
There is not one blemish on the entire recording, and Ware has matured to a point where they have learned the delectability of the foundational nature of a great verse followed by an astounding chorus. Its impact is one that is profoundly mesmerizing. This is a song that is simply, in the most awe-inspired sense of the term, absolutely captivating from end to end – a real treasure and an utter delight to experience every time you play it.
The song also benefits from smart production, where every sound has its own landscape. It's like a song within a song. Almost like a lullaby, "Seaside" is designed to arrest your mind and put you under its spell. Ware don't just tell stories, or recite prose, they paint moods. Allowing the listener to access emotions that hover below the surface without making themselves known in a too obvious way. Ware prove themselves to be true masters of their own hypnotic universe.
OFFICIAL LINKS:
https://www.instagram.com/waremuzik/
https://www.facebook.com/waremuzik/