Lowkeey is a rapper born and raised in Atlanta GA, who started taking his career seriously in 2021 by dropping his first mixtape entitled "Ase". His latest mixtape project, "GreyCanvas2" is a tremendous compendium of everything you want from a modern rap album in 2022. High-pitched, scream-rap anthems, hypnotic slow-burning jams, and the sort of dramatic psychedelic tracks that seem tailor-made for looking deep within yourself. Sometimes enjoyable music can hail from fundamentally unusual sonic plateaus, where artists cross borders and boundaries in the name of creativity and emotional impact. "GreyCanvas2" comes from such a place.
Lowkeey is the rare artist who reaches both his musical and lyrical peaks simultaneously, creating a showcase of genre-bending potential. He maximizes his voice-as-instrument style to incredible effect. Moreover, he uses his command of melody to transform lines into ear-bending motifs. The production throughout the "GreyCanvas2" mixtape is the perfect vessel for Lowkeey's ever-evolving flow. The music stays in the same affecting lane as his voice, maintaining a disquieting sense of being.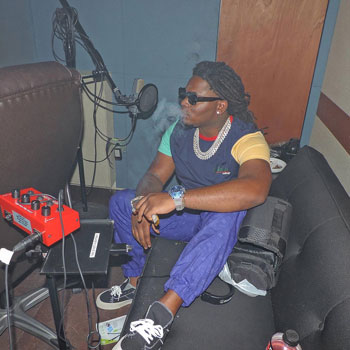 Like many of the great artists before him, Lowkeey turns his personal experiences and emotional tumult into art, simultaneously returning to rap and trap's roots while pushing the genres into another sonic stratosphere altogether. Every one of his screams and squeals packs an emotional punch as he unravels his lyrical images. Opening up with "Alife", where warm pianos meet skittering hi-hats and booming basslines, Lowkeey unleashes his resonant vocals on unsuspecting ears.
With a voice designed to blow out any speakers, Lowkeey launches himself into "Kome Cold", "Her Feeling" and "Eye 4 Iku", in quick succession, flaunting all of his wares. Deep basslines, shimmering keys, and hypnotic drums, provide the counterpoint to Lowkeey's twisted vocals, which rip through the arrangements relentlessly. There impression of there being a real person underneath the words comes through loud and clear on "More Memories".
"GreyCanvas2" is a uniformly awesome project, remarkable for the singularity of its vision, and the breathtaking brilliance of its execution. It reaches an artistic and emotional apex on "U Miss Me", driven by the usual trap-styled hi-hats and a jangling guitar. On top, Lowkeey's delivery is soulful and nuanced to the ninth degree.  A gritty, heartfelt formula he successfully repeats on "1996". Lowkeey closes the show with "Blacklife". Here he highlights how many ways he can excel within, and outside of, the existing boundaries of hip-hop, pushing his voice into dizzying sonic highs.
"GreyCanvas2" is Lowkeey at his most inventive. He infuses his vocal deliveries with personality and off-the-wall inflections. Then flexes his storytelling lyrics with a melodic cadence that lets him take a different catchy approach to each verse. At the same time, Lowkeey's song making ability is undeniable. Ultimately, this mixtape proves that Lowkeey has a winning formula, which deviates from the usual mainstream recipe, bringing something fresh and forward thinking to the table.
"GreyCanvas2" indicates how Lowkeey is pursuing a relatively original sound with the determination of an artist aiming to be an absolute protagonist on the scene.
OFFICIAL LINKS:
Instagram @Only1lowkeey_6
Twitter @Bdunst_zay