Throughout their previous releases, Brooklyn-based post-punk and post-rock band, StereoBird have delivered two things consistently: passages of music with real beauty and transcendent heft on the one hand and, on the other, thunderous power and crunchy grit virtually unmatched. With their latest single, a reworking of the song, "The Figurehead" by The Cure, the band once again deliver on these promises. Indeed, within the span of this cover version we are reminded of how proficient this band have become, as they announce themselves to the listening world once again with a track which is a career highlight thus far, without doubt.
The pleasant surprise of the vocals courtesy of featured guest Anat Trarbach, who was a singer for the band By the Night with Spear, sprinkles an extra layer of wonder to "The Figurehead". A song of power and majestic beauty the electric guitars switch from painting texture to soaring in flight, as it builds, almost without conscious awareness, into waves of blistering crescendos. On top, Anat's ethereal vocals cling to the ringing guitars.
The song inflates a brooding atmosphere into a distorted clangor, rife with overdrive and jangling guitar grit, but without concealing the beauty of the main melody. Its richly textured layers and its rhythmic and timbral experimentation offer new paradigms for producing post-rock music, both in scope and in intricacy. Whereas in the original, lead singer Robert Smith's voice was ahead of the mix, here the piercing ring of the guitars take center stage.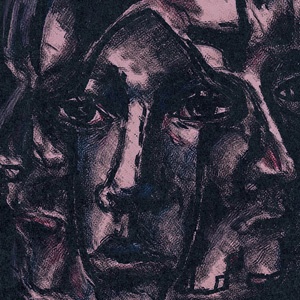 It's sprawling, sweeping, and epic in scale and scope, covering a vast terrain of sonic qualities that typically wasn't present in the original, and certainly not in the same form. It's a given that the guitars arc way above the median range of notes and chords, and that the percussion fill in its parts equally as cacophonous as the structure dictates. With wonderful range and vision StereoBird have opted for introducing a thicker, heavier sound to "The Figurehead".
When it's over "The Figurehead" is proof that StereoBird has worked hard to create a sonic vision that transcends the music industry's tendency to categorize everything into a convenient label. StereoBird succeeds in capturing an earthen mood even as the song soars to scrape the upper levels of the atmosphere. The band is able to capture on record the alluring depth and visceral intensity of the original version and multiply it tenfold.
What is abundantly clear from the first listen to this cover version is a harsher, denser, more grandiose sound. Guitars are often strident while the drums bang loudly. This time around, the journey to full bloom is accelerated and delivered with fervor. StereoBird glide effortlessly through the gears on "The Figurehead" for yet another truly memorable epic. So fully immerse yourself in the enticing depth and considerable expanse of this record. It will truly reward multiple listens, as you become more and more familiar with each winding intricacy and overwhelming surge.
At the end of the day "The Figurehead" doesn't even sound like a cover version, but like a fresh standalone revisitation of the original. "The Figurehead" cover artwork, is done by Kate Glowinski https://www.kateglowinski.com/
OFFICIAL LINKS: INSTAGRAM – FACEBOOK – BANDCAMP – SPOTIFY – YOUTUBE