Javonte Rose is a multi-talented artist making his mark in the music industry. He is a creative powerhouse whose music is a sure way of making the audience feel alive. He is releasing amazing hits and anticipated vibes, like TICKIN DYNAMITE and Creepin & Hidin and more. Javonte's newest hit single dropped Dec 16th called DESTRUCTION (D.A.N.C.E) will have everyone going crazy. You can hear all his music on ALL platforms and has great things lined up for his music career.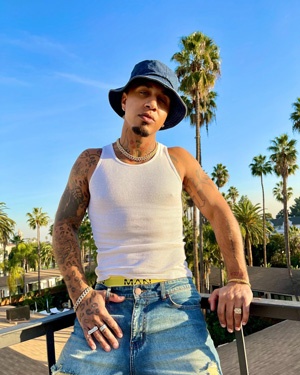 TICKIN DYNAMITE was Javonte Rose first hit single and he states it has a unique, fresh and sexy style which was inspired by Javonte's love for dancehall music and afro beat vibes. His music makes listeners feel hyped and energetic, generally giving them good vibes and rhythm. Javonte worked on TICKIN DYNAMITE with producer Kara Tavers to record his new single and also credits Richard Delva & Catrice Clemons whom collaborated to write pieces of the track.
The rising star states "The reason behind his music is to feel free, a way a feelings yourself and comfortable. Javonte's music is someone who has a lot of energy and excitement. A person who's raw and speaks their mind." Rose concludes, "They have a vibe and are never afraid to be themselves. Someone who strives for their heart's greatest desires!"
About: Javonte Rose has been inspired to work on his music since 2018. Music and dance has always been a huge passion in his personal and professional life. Javonte is known for his good looks and charming personality. His nationality is Dominican and Italian, he is originally from the Caribbean. Rose was born in Manchester NH and currently resides in Los Angeles. He is an independent artist and is focused working full time on his music and entertainment career.
OFFICIAL LINKS:
Instagram
https://instagram.com/iamjavonterose?igshid=YmMyMTA2M2Y=
Facebook
https://www.facebook.com/JavonteRoze?mibextid=LQQJ4d
Spotify
https://open.spotify.com/artist/1jZn0JBMOH2tSeC0aWyfdU?si=qhdqKYh-SXyfIoThc-DJyA
Website
Https://www.thebluroze.com
Youtube
https://youtube.com/@BLUROZE
Where To Buy Music
https://music.apple.com/us/artist/javonte-rose/1633298098