Get ready to turn up the volume and join the party, because these days it's never too early to embark on a musical career. With the advanced technology available at our fingertips, the cost of entry into the music industry has never been lower. Just about any laptop comes furnished with recording equipment necessary, making it easy for aspiring artists to get their start. However, with so much talent out there, it can be tough to navigate through all the noise and find the true gems. But every once in a while, a shining star like Zillionaire Playboy comes along and grabs your attention. At just 15 years old, this Texas-based recording artist is ready to make waves with his new EP "Born Ballin".
Zillionaire Playboy can sit on a hook just as much as he can rap, putting alongside the new wave of modern artists. On his 5-track EP, the teenage artist doesn't pull a single punch as he lands with meteoric impact on each and every bar. The hooks are infectious, stunting with composure that would make seasoned rap veterans envious. One of youth's greatest qualities is unpredictability, and there's plenty of that in this recording.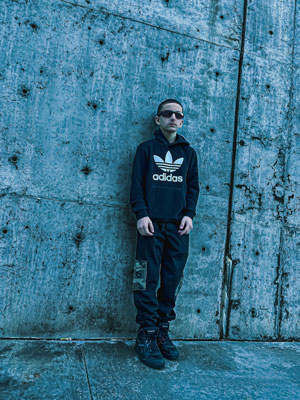 While rap and hip-hop are inextricably linked, Zillionaire Playboy bursts onto the scene riding his own wave of bars over a number of expansive beats. He opens the EP with the haunting vibes of "Phantom" ft. 15LilJuvie, mixing intoxicating melodic motifs with smooth chill flows. Blending soulful production with a sense of an earnest atmosphere, it all adds up to something potent and powerful.
"Drop It Low" comes out of the gate with a steady banging beat and a resonating low-end. Zillionaire Playboy's impeccable flow delivers both swagger and vibrancy. The Texas-based artist comes in with armfuls of energy and flavor, and his lyrics are steeped in relatability beyond his years. Zillionaire Playboy is witty and smart with his word choice. He possesses the raw skills to flip his palpable but nascent buzz into something major.
Up next comes "What's Up" ft. 15LilJuvie, which again confirms Zillionaire Playboy's familiarity with trunk booming bangers to put you in the mood. It's clear from the hooks and snatches of singing that Zillionaire Playboy has a great ear for melody in his songs, and his choice in lush, mesmerizing beats has been on point all the way through this EP so far. It's got us convinced that Zillionaire Playboy is both ambitious and truly focused on his goals.
The synths on "Make It Big" come in with cinematic grandeur before the track introduces the skittering hi-hats and handclaps. On top, Zillionaire Playboy delivers his mesmerizing vocal tones. The song has a knack of finding its way into your head whether you are ready or not. The same applies to the dizzying closer, "Woah". It blends the rapper's slow twisting flow with a futuristic production that makes the song pop.
Zillionaire Playboy shows us across the EP "Born Ballin", that he has got all the crossover potential necessary to pull in a vast audience, but he also avoids the obvious by balancing out ear-catching hooks with nimble rapping and eclectic production choices.
OFFICIAL LINKS:
https://instagram.com/thezillyp
https://youtube.com/@zillionaireplayboy