At 37 years old, Mason Mowat is a man on a mission. Driven by a passion for writing and a desire to bring his art to life, Mowat is no stranger to vulnerability. He believes that expressing emotions and experiences through music is a beautiful thing, and it's what fuels him. For Mowat, music is his happy place, his great escape. It's where he can let it all out and feel rejuvenated. What started as a hobby has now become his dream – to be heard on the radio and to have people singing his songs. Mowat is a trans-guy, and he's proud of who he is. He doesn't believe in labels, and he's living proof of living his truth. He's putting himself out there, impacting the world with his sound, his words, his life, his story. And as he himself says, it's never too late to change your fate. We all have to start somewhere, and for Mason Mowat, that place is here and now.
As a family man, Mowat is a proud uncle and godfather to three little ones. When his niece Stella was born, that's when Uncle Mase (Mason Mowat) was born. She was the first one to know the real him, and she holds a special place in his heart, although all three have a strong bond with him. Mason Mowat's music is mostly based on love, even though he's been single for some time. He understands the struggles of being hung up on exes, or the ones that got away, as well as the need of wanting to find love again.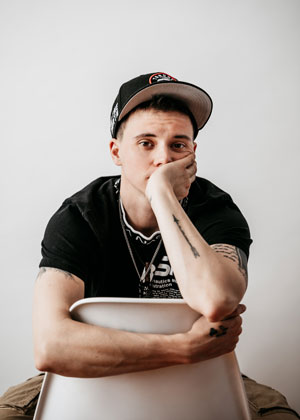 Mason Mowat has dropped a string of stunningly catch singles. His latest being "Nice Guy", which will also be the title of his upcoming album that is just two songs short of completion before its official release.
Consistent amid the hairpin shifts in style that the album throws the listener from song to song, are Mowat's slick vocals and earnest, honest lyricism. The melodies he is singing are adventurous and assured, presenting alluring workouts for his mellifluous vocal tones and smooth transitions.
On the single "Nice Guy", Mason Mowat seems comfortable with his vocal ability, which is definitely the centerpiece of the composition, and he's willing to push his voice further out of its comfort zone. There's also a significant focus on velvety vocal harmonies, which shine courtesy of the polished production.
The mid-tempo song runs on a solid thumping beat, shimmering keys, and crunchy guitars, as Mowat sings: "Love me or love me not, give me a shot. Everything you want, you say that I got. Take my hand. Help me understand. What are you running from? What are you scared of?"
A quick run through some of the other tracks on the album, highlights an artist with a knack for relatable lyrics, catchy melodies, and a super versatile voice. "Goldmine" is delivered in a breathless and urgent tone, while "I Got A Problem" develops on a lusciously layered, sweeping backdrop.
"Never Lonely" has a semi-muted foundation while Mason Mowat's vocals resonate with clarity and poignant nuance. "Gasoline" rises up slowly and powerfully on a striking instrumental, that intoxicates the senses.
"Hungover" is awash with acoustic guitars and echoing vocal layers, while "Love Of My Life" thrives on an a trendy electropop beat. Overall, these songs present a musician comfortable and confident in what he wants to create right now. That gives the upcoming album a sense of warmth and makes the tracks on it feel conversational and close, as if you're sitting across the table from Mason Mowat and catching up with the singer-songwriter's life experiences firsthand.
With "Nice Guy", Mason Mowat has pulled off the neat trick of making his music at once elegant, vibrant and refined, but also warm, honest and intimate. It's precisely the kind of record that the world needs right now.
OFFICIAL LINKS:
Social Media: @masonmowat on Facebook, Instagram and TikTok
All Streaming Platforms: Mason Mowat