In a genre that is often accused of being formulaic and lacking substance, DeeBee The Man emerges as a refreshing breath of fresh air. His music is an intricate web of poetic devices, intricate rhyme schemes, and effortless flows that deliver a payload of personal truths and outspoken thoughts. Born and raised in Harvey, IL., DeeBee The Man has been honing his craft since he was a child, writing music that speaks to the complexities of human experience. DeeBee The Man's latest mixtape, "We Gone Make It Vol. 2", is a testament to his evolution as an artist. With 17 tracks, the mixtape is a tour de force of DeeBee's artistic prowess. The production is grander, and the themes run deeper. But what really sets DeeBee The Man apart from his peers is his willingness to explore the core of his lyricism and sharpen his focus as a captivating storyteller.
The result is a mixtape that is not just a collection of songs but a coherent work of art. The tracks flow seamlessly into one another, creating a narrative arc that takes the listener on a journey through DeeBee The Man's mindset and feelings. The mixtape showcases his range as an artist, with tracks that range from introspective to anthemic. Each track is a masterclass in wordplay, highlighting DeeBee's pen game at its finest.
What sets DeeBee The Man apart from his peers is his ability to add multiple layers to his artistry while never sacrificing the basic mechanics of his rap technique. He is clearly a lyrical assassin, but he is also a master storyteller who can take the listener on a journey through his life experiences. His words resonate with authenticity, and his flow is like a rollercoaster ride that takes you through his highs and lows.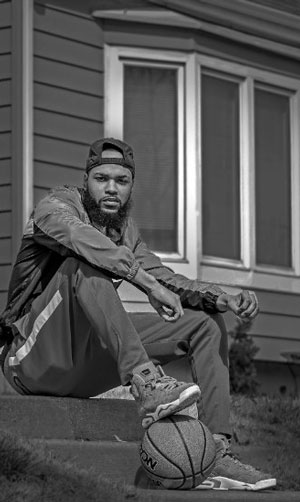 With "We Gone Make It Vol. 2", DeeBee The Man is elevating his game to match the bigger stage that most certainly awaits his career. This mixtape is a hip-hop mixtape of the year contender, a testament to the hard work and dedication DeeBee has put into his craft. It proves that his previous music was only scratching the surface of who DeeBee The Man could be as an artist, with a more ambitious outlook, a bigger budget, and a more substantial platform of listeners.
The mixtape kicks off with the title track, 'We Gone Make It, Pt. 2' which quickly sets the tone with a retro soul backdrop, and DeeBee The Man's breathless rhyming. 'Reflect' creates a deeply introspective atmosphere, allowing the rapper to unpack a bag full of personal sentiments that cut like a razor blade. This leads to the soulful groove of 'Empty', which packs another whopping emotional punch and pure storytelling genius. 'Not For The Week' ft. RozaeeSav & Heavyweight Cash, comes out slapping with a rumbling bassline and twisting keys.
'Minnesota Vibez' rides in on warm sweeping keys and DeeBee The Man's dominating flow. "I'm getting zooted tonight, 1738, I'm out my element, patent leather on my jacket, all black on the sleeves, this be a Letterman matte black my whip, limo tint when I slide, they think I'm prejudice kush smoke when I ride, first hit be the best, I'm feeling eloquent," spits DeeBee The Man on 'Out My Element', before seamlessly stepping into 'Talk To Me Nice' ft. Heavyweight Cash.
"If u getting money and depend on nobody, raise ya glass and let's take a shot. Damn right you deserve respect after disrespect made you spin the block. It don't matter how you punch the clock, cherish the fact that you making the bread to get ahead and stay on top," exclaims DeeBee The Man on "Take A Shot". Ten tracks deep on 'The Artifact', and the rapper shows no sign of slowing down. His stunning penmanship, sensational beats, and the incredible ability to fuse the two together, continue relentlessly.
From 'Drippy' to 'Unappreciated' and 'Life' to 'Streets Don't Love You', DeeBee The Man continues to unpack his skillset and raw emotions, even adding catchy melodic elements to his already impressive game. The final lap takes us through 'Run Around', 'Out The Way' ft. ShortyRon and 'No Chaser'. DeeBee The Man's personality shines throughout these tracks, allowing for his narratives to develop with convincing authenticity throughout the record.
DeeBee The Man is an artist on the rise, a master of wordplay who is just entering his prime. He is a force to be reckoned with in the hip-hop game, and his music is a testament to the power of authentic storytelling. Wherever the road takes him, it's safe to say that DeeBee The Man is ready to sit in the driver's seat of his career.
OFFICIAL LINKS: INSTAGRAM – YOUTUBE – SPOTIFY – APPLE MUSIC