Christian Tedder aka Hazy's latest single 'Out Of The Way' is a triumphant ode to his journey as a new wave hip-hop and rap artist from South Carolina. This rising voice is a full-time employee at a dealership but when he is not working, he is grinding on his music career. Along with his good friend Ollie OG, they go by "ollie gang" and record their music at Ollie's place, where Hazy thrives creatively, and values Ollie's opinion on his work. Hazy's confident and assertive personality is reflected in his lyrics.
The song starts with him reminiscing about his past struggles and celebrating the fact that he has made it through them. He is proud of his humble beginnings and the journey that he is on to reach his predetermined goals. His optimism and determination are palpable when he sings, "Im on a come up, I feel that I was chose, and im not stopping til i see both of my wrists froze."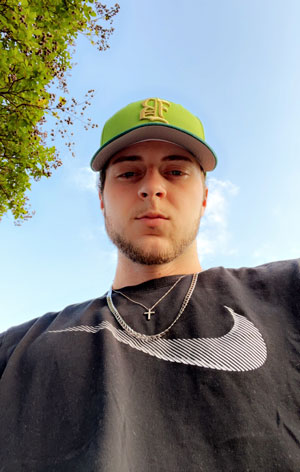 The beat of the song, is driven by futuristic and atmospheric synths, skittering percussion, and a booming bottom end. Hazy's vocals are relaxed yet intense, and his delivery is precise, conveying the message of the lyrics with power and conviction.
He talks about his disdain for fake people, those who doubted him, and those who try to bring him down. He also goes on to discuss how he is always ready to face life's challenges head-on, and that he is never afraid to go after what he wants. "Anything life throws my way is getting snagged," he asserts.
Hazy's lyrics are infused with the passion of someone who has experienced hardship and is now focused on creating a better future for himself. He raps about his achievements, "You know that I already iced out a rose," and his inspired prosperity, "Run that money up til we can stack in piles." His message is clear: he is no longer content with struggling, and he is proud of how far he has come, and how far he is still planning on going.
'Out Of The Way' is a refreshing take on contemporary rap and hip-hop music. The lyrics are honest and authentic, and they reflect Hazy's experiences and struggles as a rising independent artist. The song has a vibrant energy that makes it easy to groove to and connect with, and it's hard not to feel inspired by the artist's relentless pursuit of success.
'Out Of The Way' highlights Hazy's distinctive voice and style, and his delivery is both surefooted and captivating. He has a way of drawing listeners in with his confident and assertive personality, and it's clear that he has a lot to say. Hazy's lyrics are relatable and inspiring, and they offer a glimpse into his personal worldview and his aspirations for the future.
In conclusion, 'Out Of The Way' by Hazy is a powerful song that unpacks the artist's journey thus far and his unwavering dedication to his craft. The song's rich and reverberating production makes for an engaging musical backdrop to the artist's confident and assertive delivery. Overall, this song is a great addition to Hazy's growing list of releases and is definitely worth a listen for those who appreciate the new wave of modern hip-hop and rap.
OFFICIAL LINKS:
https://www.instagram.com/theycallmehazy/
https://music.apple.com/us/album/out-the-way/1679022193?i=1679022194
https://youtu.be/iW86EWUZTu4
https://open.spotify.com/album/2QCKRhHWv8EbHieDgZrTy3?si=ardNiyeyTFGt_AdU-TEZrw