Kwame Brown is a force to be reckoned with in the realm of rhythm and rhyme. Hailing from the captivating landscapes of Ironton, Ohio, and now residing in the vibrant city of Columbus, we introduce you to this prodigious talent. This dynamic artist, representing the esteemed B4I Records/PLE Music, is currently concocting three electrifying projects, all leading up to his highly-anticipated upcoming album. But wait, there's more. There's the explosive trifecta of music video miniseries accompanying his latest auditory endeavors, featuring the sensational tracks "Wear Nothing," "Radio Up," and the spellbinding anthem "Without You" from his recent masterpiece, "The Re-Visit."
As Kwame Brown sets his sights on the future, his ready to embark on a journey that will captivate audiences worldwide. With plans of gracing stages and thrilling fans, he aims to hit the touring circuit next summer, or who knows, perhaps even this fall if the cosmic alignment permits. This vibrant artist has already accumulated a myriad of minor triumphs, boasting an impressive catalogue of 10 groundbreaking Mixtapes/EPs. Furthermore, his stellar talent has earned him the privilege of opening for esteemed acts such as the one and only Stephen Colbert, as well as the Ying Yang Twins and the indomitable Bubba Sparxxx have. Over the years, Kwame Brown has left an indelible mark with numerous electrifying performances and captivating radio interviews.
Now, let's dive headfirst into the sonic universe of Kwame Brown, where his single "Applying Pressure" reigns supreme. This dynamic recording glides effortlessly on a bouncy beat, adorned with skittering percussion and warm, inviting keys. As Kwame's unmistakable flow takes center stage, he exudes an air of invincibility, bolstered by his self-empowering and lyrically captivating verses. Throughout, his infectious vocal deliveries and rhymes reverberate with vibrant pop culture references, leaving an everlasting imprint on your soul.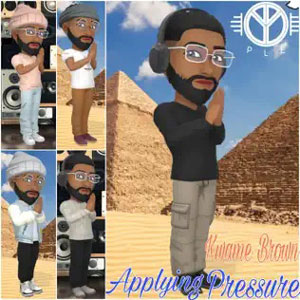 In the enchanting realm of "Applying Pressure," Kwame proclaims his unrivaled freshness, dripping sauce like a maestro, leaving his contemporaries in the dust. Swathed in undeniable swagger, his impeccable fashion sense shines through, leaving all in awe. The amalgamation of thrift stores and high-end malls forms his playground, as he luxuriates in his pleasure, unapologetically dropping bags on bags to satiate his desires.
From the timeless elegance of Gucci and Louis to the chic allure of Rue 21's, Kwame Brown fearlessly adorns himself with whatever catches his discerning eye. But here's the twist: it's not about impressing others; it's about self-expression. When Kwame embraces his true essence, his confidence exudes like a gentle breeze, leaving a trail of freshness in his wake.
Witness the phenomenon that is Kwame Brown as he applies unrelenting pressure. When he strides by, heads turn, and hearts skip a beat. What's truly remarkable is that he effortlessly exerts this magnetic influence without even trying. It's a natural state of being for this extraordinary artist.
His lyrics, infused with the muscle of self-empowerment, paint a picture of supreme confidence and a taste for the finer things in life. With each verse, Kwame's vocal delivery penetrates your mindset, making you feel like part of an exclusive club privy to his lyrical genius.
Kwame Brown, with his infectious charm and self-assured swagger, is here to captivate your senses and redefine the boundaries of his musical artistry. Kwame's words, laced with bravado, effortlessly roll off his tongue. While others may struggle to find their footing, he saunters forward, leaving a trail of authenticity and unadulterated charisma in his wake. His magnetic aura is not a result of meticulous calculation; it's an effortless display of his true essence. Keep your ears perked and your hearts open, for "Applying Pressure," is only a part of Kwame Brown's remarkable journey.
OFFICIAL LINKS: Twitter/Facebook/Instagram/Youtube: @KwameBrownMusic