Prepare to be captivated by the resounding talent of fast-rising Cameroonian singer/songwriter LeBoyBudget as he unveils his latest masterpiece, "Never The Same Again." This electrifying track serves as a testament to the trials and tribulations that have shaped the artist, reminding us all that change is inevitable and that we need not remain confined to our current circumstances indefinitely. A motivational anthem meticulously crafted by the gifted producer J on the Beatz, this song is poised to ignite a fire within you.
"Never The Same Again" immediately hooks you with its infectious Afrobeats-infused melodies, creating an indelible mark on your auditory senses. Yet, it is not merely the remarkable production that sets this track apart. LeBoyBudget's vocals effortlessly glide over the music, leaving an enchanting trail in their wake. His delivery is impeccably tailored to match the song's laidback, summery atmosphere.
With this exceptional release, the singer-songwriter has firmly established himself as an artist on the rise, commanding the attention of music enthusiasts worldwide. Brace yourselves, for LeBoyBudget is about to embark on a mesmerizing musical journey, and you wouldn't want to miss out on the intoxicating vibes and hip-swaying rhythms he has in store.
LeBoyBudget's prowess in crafting catchy melodies and addictive hooks is unparalleled, complemented perfectly by his unmistakable voice. It is evident that he is prepared to pour his heart and soul into his craft, leaving an indelible mark on the music scene. His voice possesses an ethereal quality that transcends reality, leaving listeners transfixed, lost in a realm where dreams become tangible. It is with this incredible talent that he is destined to make waves on a global scale.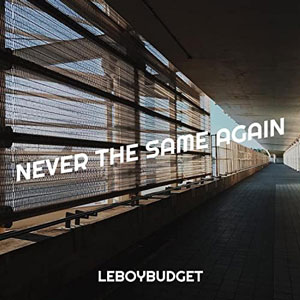 Now, let's delve into the poetic verses of "Never The Same Again." LeBoyBudget fearlessly addresses the issue of tribalism, emphasizing the importance of unity and love among individuals. He firmly believes that no man can undermine the blessings bestowed by the Almighty. As he journeys from Bamenda to Douala in search of prosperity, his determination is unwavering. LeBoyBudget's faith is unshakeable, knowing that divine presence will guide him through every step. Fear holds no power over him, as he confidently proclaims his unwavering trust in the protection of the heavens.
As he walks the path of faith, LeBoyBudget earnestly prays, believing that his blessings will come to fruition. When the world bears witness to the extent of his success, many will be left astonished, while he remains unyielding in his unwavering convictions. He defiantly declares that his blessings will not be seized from him, as he triumphantly asserts, "Things will never ever be the same again." A life-altering transformation has come his way, for good. This year, and every year thereafter, belongs to him.
Once again, LeBoyBudget reminds us that no man can diminish the blessings of the heavens. In this new year, fear has no place in his heart, for the divine presence of Oluwa remains faithfully by his side. His unwavering trust in the Almighty fuels his spirit, empowering him to fearlessly navigate the journey that lies ahead.
"Never The Same Again" is a poignant reminder that change is both inevitable and transformative. LeBoyBudget's melodic prowess and soul-stirring vocals infuse this track with an undeniable allure, leaving an indelible impression on listeners. His music transcends language and culture, speaking directly to the hearts of those who dare to dream. With every note he strikes, LeBoyBudget brings us closer to a world where passion, resilience, and unwavering faith reign supreme.
Join LeBoyBudget on this exhilarating musical voyage as he carves his path to greatness. LeBoyBudget is here to stay, and his music will inspire and uplift. This is where dreams become reality, and change becomes the catalyst for a brighter tomorrow. So, let the melodies resonate deep within your soul, and embark on a journey you'll never forget.
OFFICIAL LINKS: https://ffm.to/kqn9jao