In contemporary music, where creativity knows no bounds, the name Adamusic stands tall as a testament to the limitless possibilities that await within the realm of mashup artistry, and beyond. A maestro of harmonizing diverse musical worlds, Adam Wright, professionally known as Adamusic, strives to make an impression on the pop and dance scene with his latest single, 'G.U.Y. 4 U (MASHUP),' an audacious amalgamation of Britney Spears' 'I'm A Slave 4 U' and Lady Gaga's 'G.U.Y.'
With a career spanning over eight years in the digital domain, Adamusic has solidified his status as a music producer, artist, DJ, and content creator. Hailing from the vibrant city of Los Angeles, California, Adam's journey began with an ingenious knack for crafting captivating mashups, a craft he honed and cherished from his very first remix upload back in 2014. It was this initial spark that would ignite a spectacular career trajectory, culminating in a massive following of over 1.5 million loyal fans and an astonishing 350 million video views across YouTube and TikTok.
However, Adam's artistic odyssey was not confined to the digital realm. In 2019, he took a decisive step forward by relocating to Pasadena to pursue a Bachelor's degree in Music at the Los Angeles College of Music. His academic immersion, combined with his intrinsic talent, set the stage for a seismic shift in his musical trajectory.
The year 2020 marked a significant turning point for Adamusic as he dived headfirst into original music creation. His eclectic repertoire, characterized by irresistibly catchy melodies, pulsating synth-pop instrumentals, and grandiose orchestral productions, firmly established his presence in the pop scene. And people stood up and took notice.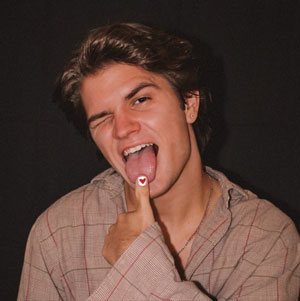 In January 2022, Adamusic released his debut album, "Main Character," a milestone that underscored his emergence as a formidable artist.  The critical acclaim he received from industry giants and notable publications such as Billboard, Entertainment Weekly, and Seventeen underscored the sheer brilliance of his work. Adam's meteoric rise even earned him a coveted spot on KIIS FM's "On Air With Ryan Seacrest" and a nomination for 'Best Audio Mashup' at the 2021 MTV Trending: VMA's. His digital prowess led to collaborations with heavyweight industry players including Capitol Records, Atlantic Records, Island Records, American Eagle, The NFL, HBO, Discord, TAKIS, and Roc Nation.
Now, let's delve into the heart of the matter: 'G.U.Y. 4 U (MASHUP).' In this audacious sonic adventure, Adamusic masterfully weaves together the iconic vocals and music from Britney Spears' 'I'm A Slave 4 U' and Lady Gaga's 'G.U.Y.' It's a tantalizing clash of pop titans, a musical showdown that Adamusic orchestrates with finesse. From the first electrifying beat, 'G.U.Y. 4 U (MASHUP)' propels listeners into a world of taut, highly charged, and edgy dance-pop. The essence of both Britney Spears and Lady Gaga's vocal prowess is preserved, but in Adamusic's deft hands, they engage in a tantalizing exchange. Their voices dance together, creating a mesmerizing kaleidoscope of emotions and rhythms.
What sets Adamusic's mashup apart is not merely the fusion of two beloved hits but the artistry with which he melds them. Every twist and turn in 'G.U.Y. 4 U (MASHUP)' is a testament to Adamusic's exceptional skill as a producer. He maintains a relentless groove that keeps the energy soaring, ensuring that you won't be able to resist the urge to move your body.
As 'G.U.Y. 4 U (MASHUP)' unfolds, listeners are treated to a musical rollercoaster, where familiar melodies blend seamlessly with unexpected twists. The result is an exhilarating and thoroughly enjoyable experience that pays homage to two pop legends while reinvigorating their classics for a new era.
Adamusic's 'G.U.Y. 4 U (MASHUP)' is a testament to the skillset of this prodigious talent. With an illustrious career that continues to ascend, Adamusic has firmly established himself as a pioneering force in the world of music mashups. In this latest release, he not only pays tribute to the giants of pop but also cements his own place in the digital realm. 'G.U.Y. 4 U (MASHUP)' is a vibrant, pulsating, and electrifying piece of music that demands to be heard and danced to. It's a sonic celebration of music's power to unite, excite, and elevate the soul. In Adamusic's hands, the past and the present coalesce into a glorious, danceable future.
OFFICIAL LINKS:
https://www.youtube.com/channel/UCHvWesuSJyRygcPrYgtoQGg
https://soundcloud.com/adam-wright-633634776
https://www.instagram.com/adamusic_
https://adamusic-official-merch-2.creator-spring.com/?