The emergence of artists who dare to transcend genre boundaries and craft a sound uniquely their own is a rare and exhilarating phenomenon. One such music maker, indie hip-hop artist Reecy Vedo, has not only breached the boundaries but has demolished them entirely with his latest offering, 'Rough Seas & Tranquil Islands.' In this sonorous odyssey of 7 tracks, Reecy Vedo masterfully marries the world of rap with tantalizing pop and R&B accents, taking us on a mesmerizing voyage across musical landscapes.
From the very inception of his musical journey, Reecy Vedo has drawn inspiration from a multifarious array of influences, ranging from the inimitable Red Hot Chili Peppers to rap virtuosos like Curren$y and Big Pun. His eclectic tastes span across genres, encapsulating the likes of Alice in Chains, Kid Cudi, T-Pain, and the legendary Bob Marley. It's this mélange of inspirations, that fuels the incendiary creative engine propelling Reecy Vedo's sonic experimentation.
As an artist who ceaselessly strives for artistic evolution, Reecy Vedo has accumulated an impressive discography since his debut in 2015. Hailing from the outskirts of Seattle, WA, his musical roots run deep, nurtured by a diverse musical upbringing. The very moniker "Reecy Vedo" is a testament to his familial ties, a fusion of his parents' surnames, Reece and Acevedo.
It's a name that resonates with profound personal significance, echoing the beats of his uncle's car stereo, where the young Reecy Vedo was introduced to the infectious rhythms of Big Pun's "Still Not a Player." Those early moments in a booster seat laid the foundation for a lifelong love affair with music, rhythm, and groove.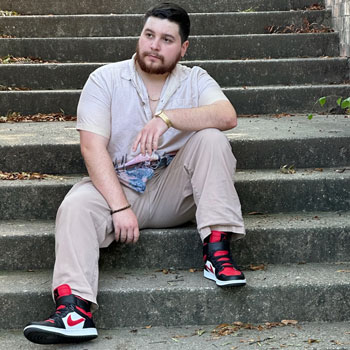 Reecy Vedo's journey has been nothing short of nomadic, crisscrossing the United States from Connecticut to the vibrant heart of the nation's capital, Washington, D.C. Yet, it was on the Eastern Shore of Maryland where he spent his formative years, absorbing the diverse musical tapestry of his surroundings. At the age of 18, he embarked on a musical pilgrimage, returning to the D.C. metro area to attend the University of Maryland, College Park. Here, amidst a community of like-minded individuals passionate about music, Reecy Vedo's artistic spark was ignited. The stage was set for the genesis of his own sonic odyssey.
Reecy Vedo's 'Rough Seas & Tranquil Islands' is a magnum opus, a testament to the artist's lyrical prowess, magnetic melodies, and production acumen. Comprising seven meticulously crafted tracks, this album is a kaleidoscope of sonic textures, each composition a vibrant brushstroke on a canvas of musical exploration.
The album kicks off with 'Ego Eviction,' a lyrical rollercoaster that showcases Reecy Vedo's command over the rap domain. His verses are sharp as a razor's edge, each word a precision strike that draws you into the themes of self-reflection, personal growth, and the internal struggle with ego. 'Repeated Reminders' follows suit, with Reecy Vedo's songwriting prowess turning every lyrical tidbit into a marquee attraction. He delivers a powerful narrative of self-discovery within the context of a challenging relationship.
But it's not just about bars and verses; 'Rough Seas & Tranquil Islands' delves into the heart of melody with tracks like 'Beach House' which explores the artist's ambition, personal growth, and the challenges faced along the way. And 'Cruisin' (Ocean View),' which encourages listeners to reflect on their own life journey, desires for connection, and the importance of embracing change and adventure. Reecy Vedo's mellifluous voice intertwines seamlessly with the lush instrumentation, and rapped verses, creating an atmosphere that's as soothing as it's vibrant.
'Sink or Swim' plunges us into a sonic tempest, where Reecy Vedo's lyrical prowess is in full display. The track is a testament to his storytelling abilities, painting vivid narratives with every verse. It encapsulates themes of resilience, determination, and the willingness to embrace challenges head-on.
'Mine and Yours' which explores themes of connection, self-discovery, and the complexities of relationships, and 'Happy' which radiates positivity and emphasizes the importance of seeking happiness and sharing it with others, round off the album, leaving us with a sense of euphoria. These tracks resonate with a sense of introspection and contentment, a testament to Reecy Vedo's lyrical dexterity in conveying complex emotions.
One of the standout features of 'Rough Seas & Tranquil Islands' is the diverse selection of beats that underscore Reecy Vedo's lyrical journey. From jangling guitars to shimmering keys and thumping drums, each track is a testament to his musical versatility. The infectious rhythms that permeate the album are a testament to the artist's soulful vocal tones. In a musical landscape often marred by predictability, 'Rough Seas & Tranquil Islands' is a breath of fresh air. It's an exploration of sound that transcends genres, a testament to an artist who refuses to be confined by convention.
In every track, Reecy Vedo's passion, creativity, and undeniable talent shine through, painting a vivid portrait of an artist who is not just riding the waves of change but creating them.  With 'Rough Seas & Tranquil Islands' Reecy Vedo has set sail on a musical odyssey, and we are all fortunate passengers on his exhilarating voyage.
OFFICIAL LINKS: https://open.spotify.com/artist/2n1mLXdMbJ7opgHE2hemED