Tohi is a rap artist currently based in Los Angeles, CA. He started his musical career as the first Persian rapper at the age of 13. He was forced to perform illegally in his native Tehran, where rap has been banned. In order to chase his dreams, Tohi located to Dubai for two years where he was able to create music openly, followed by a move to London. As he continued to build his career Tohi performed at major venues such as Barclaycard Arena Hamburg and The Global Arena Stockholm and HMV Forum London O2 and won awards, including Best Hip Hip and R&B Act for DAF BAMA Music Awards 2016 and 2017. Tohi's music has been streamed over 200 million times and 5 million people follow him on social media.
Tohi's highly anticipated new single, is entitled "Out The Box". It's another testament to the sound that Tohi is capable of forging. Like its predecessors, the artist creates a song that will be played ad infinitum at functions and clubs until the hooks, the breaks, and, of course, the bass are burned into the brain of every attendee.
Modern-day music like Tohi's, is not expected to have much of a shelf life, being created for the here and now. Yet with "Out The Box" you get the impression it will grow more powerful with familiarity; among the many appeals of his style is the ability of songs to be reshaped endlessly into new memetic forms.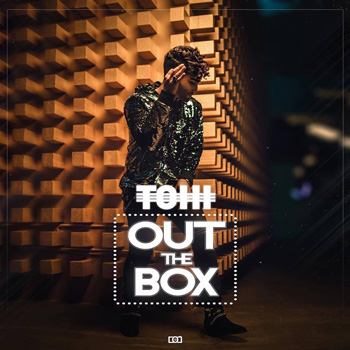 This is the perfect encapsulation of the sea change in rap's audience, as the genre has usurped every other element of popular culture. Much to the surprise of those concerned with rap's evolution as an art form, the emergent theme is emotional music you can chill or groove to.
More precisely, rap is subject to being wrested from its gangster context and bent into a form of expression not just for the artist, but also for the listener. Tohi is particularly comfortable in bringing his own style to the table on "Out The Box".
Bridging the gap between the fan-bases of Rap and R&B, "Out The Box" is an encapsulation of Tohi's defining characteristics as an artist; riddled with a hard hitting, instrumental production, as well as melodic and liquid vocal intonations.
Tohi's lyrics is another testament to the new sound of the rap/hip-hop era. Apart of what makes Tohi a unique talent is his self-awareness. He doesn't try too hard to imitate his peers, except for the occasional, and inevitable nuance, which is part of the job, but rather sticks in his lane as a rapper and singer.
And let's be honest, this is the sound the youth crave today. Tohi knows exactly who he is as an artist and what he provides to the world of music, and with "Out The Box" he brings all those elements along with him.
The genre has no shortage of colorful personalities, but few and far between are the figures delivering credible music; the ones whose work will linger longer are the ones we'll be hearing from up ahead. Put Tohi on that list!
OFFICIAL LINKS: WEBSITE – YOUTUBE – TWITTER – FACEBOOK – INSTAGRAM