"Guns" is the latest music video from Charleston, MO based rapper Beav. He is an intellectual hustler who uses words to tell the story of his life and the personal pain he's overcome. His highly anticipated first album is gaining national exposure. Grammy-winning artists and up and coming hit makers have helped bring Beav's lyrics to life. I must say, this is truly a powerful single. It's sad that wise and thoughtful artists like Beav aren't getting radio play, while trash artists pushing negativity and ignorance fill the airwaves. "Guns" is truly a fantastic listen, filled with a banging beat, and an even better message in the music. Beav mixes the thug life with conscious thoughts which blends into a visceral listening experience. Underground, raw and edgy, "Guns", delivers the good, the bad, and the ugly in street living. Plus it drops a couple of social and moral issues for ears to ponder.
Beav is one of those rare breed of emcees who is able to effectively communicate with all the hip hop community whether it be the streets or the more casual fan. On "Guns", Beav zooms the camera in closely, to our neighborhoods, and the armed forces that surround us.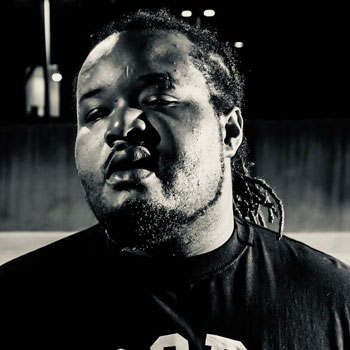 His caustic, confrontational stance is immediately impacting. He rages while the beat pops like mortars alongside him. This is one of the most compelling tracks of its kind released for some time. It looks likely to be a mainstay come the year-end, best-of equations, associating studio inventiveness with inspired lyricism, and delivery.
The whole thing feels audacious and downright important, at least for the sake of the disgruntled urban populace out there. Cerebral without being overwrought and passionate without being bigoted, Beav is an everyman's MC, with a gift for rhetoric that has no compatibility issues with his songwriting.
The production is amazingly detailed, and particularly the bass is terrific from start to finish. Gritty, raw, and informed Beav rides the beat aggressively, carving an impressive lane for himself. His rapping has never been better.
Beav's growl is raw, but pleasant on the ear.  What makes him stand out is his rhyme structures, well-employed references, and conscientious thought processes. Beav clearly has put his life into his music and this track is a powerful result of that effort.
"Guns" is a track that understands where it comes from, while it is simultaneously standing at the top of the tower, screaming out to everybody, to take heed. "Everybody got a gun. You see, that's the fuckin' problem," warns Beav. The dude is dead-ass serious too. This song is his manifesto. If you want to know where Beav stands on police brutality and abuse of power, he'll let you know on this track.
"Guns" is going to get a lot of attention. Beav speaks his mind here and doesn't hold much back. He also isn't lying either, so listen. To call something "timeless" is unnecessarily dramatic and ridiculous, but as long as hip hop is around, so will this type of music. You'd be foolish to miss this record.