Oh Well is a one-piece progressive EDM project based in Chicago, Illinois, that has released its debut 3-track project, "Forging a False Reality". While I expected something amazing, just looking at the cover artwork. I really didn't expect this recording to shoot shot into the stratosphere. Listening to it has spawned a sequence of emotions that make me listen to it even more, making me feel as though I managed to hit the mark when it came to choosing this as a listening experience. This obviously also means that the singer, songwriter and producer, hit the mark when it came to the construction of something extremely viable, and I really have to give Oh Well kudos on this, his first official creation. This is something new, something great, and it will keep your attention. This is where Oh Well proves that he can write songs.
And not just simple EDM bangers. I mean big cinematic-like electronic constructions, with orchestral dynamics, and deep resonating vocals that will echo in your head for days. I don't even think that EDM is the right genre definition for what Oh Well does. However, if lyrics and melodies are as important to you as stirring sonic atmospheres, then you will certainly bask in the melodramatic beauty of these three songs.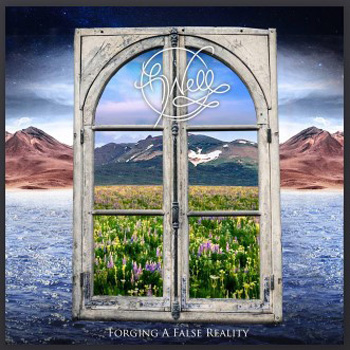 The EP starts off with the slow but steadily building, "Questioning Sanity". The heavy drums, the catchy harmonies, and the rumbling bass lines come together perfectly, showcasing Oh Well's hypnotically effective and testosterone-filled vocals.
The title track, "Forging a False Reality", maintains the rumbling bass, and slamming drums, while rolling out layers of affecting strings. The vocals, again, are highly distinctive, and without doubt, Oh Well's most defining factor. The phrasing, inflections and vocal tones are both unique and original.
It has a primal, almost sublimely, animalistic nature, which is as intimate as it is resonant.  This song proves once again, that Oh Well has the talent and capability to compose some very impressive music, and sing in an absolutely stunning way. Compared to the current electronic music scene, this is totally awesome, refreshing and though-provoking.
"Falling For You" is an excellent song, and it has been a long time ago, that I have heard a song that really captured my heart like this. The smooth falsetto, the striking synths results in a kind of ingenious mid-tempo ballad that is so exiting and ambitious, you'll only want to close your eyes and let yourself fall into the arms of someone else.
I am really impressed by the nature of Oh Well's extremely intense voice, which is able to scale its register in either direction, with equal ease. You can tell he puts his heart and soul into every song. This gentleman creates some haunting soundscapes that are embellished with mind-bending narratives.
The internal searching and moody strains of melancholy that weave their way through these songs, suit Oh Well's voice perfectly. The depth of the lyrics and the soulfulness of the music will send you on a musical journey that any fan would be happy to go on.