Growing up in Manchester, NH, Night Shift Zombie began listening to old school hip hop with his dad. He has had a love for writing music from a young age, and has been influenced by 2pac, Smif N Wessun, EPMD and Das EFX. The rapper released his new single "No Worries" on the first of April because of the song "1st of tha Month" by Bone Thugs n Harmony. The track is a hip hop song that he wrote about keeping it together throughout life's struggles when the world is going crazy. Man what can you say about this one – the lyrics and beat is topnotch, while Night Shift Zombie sounds like an ultra-professional.
His delivery is smooth and flawless in both the singing and the rapping. The recording too, is non-stop perfect sonic elegance. NSZ's voice is exactly where it belongs, not the usual in your face digital farces, but smooth and natural. The mastering and engineering is beyond perfect.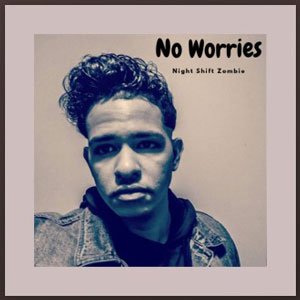 "No Worries" is enjoyable and reminds me of why I enjoy listening to all the different music artists coming out of nowhere every day. I see I see Night Shift Zombie not only as a rapper and singer, but a storyteller. He actually says something within his lyrics, which is not just hedonistic or misogynistic.
This is a far cry from the attitudes of some of his contemporaries and peers. Hardly in hip-hop will you find someone who works hard so to imbue their songs with a profound sense of emotional maturity and complexity.
Night Shift Zombie is a brilliant specimen of the renaissance rap some have spent so much time polishing: charismatic and intelligent his rhymes are both personal and global in intention. Without the hype, and big-name guests of his peers, NSZ molds his game, around going it alone. Something he pulls off brilliantly.
Night Shift Zombie a track that is the very essence of melodic, but with more intricacy and self-awareness in these almost three minutes than you'll find on some albums. On the entirety of "No Worries", he's well-rounded, smart, and inventive.
The track is a demonstration of the artist's level of self-assurance. There's something raw and relatable about him. Mix all that with an ultra-catchy beat of studio-manipulated drums and guitar, and this number is, without a doubt a powerful single. Night Shift Zombie has allowed himself to access a new artistic plateau.
One not usually associated with up and coming artists, but more affiliated with seasoned professionals. I would give this track a 10/10 for just staying real and because of how well Night Shift Zombie's voice suits the music he performs. If you're smart, you'll just add this to your playlist.