Oftentimes music has a way of helping people through the rough periods of their lives by allowing them to still their minds and quiet the tumult that is assaulting them from without. It allows people to turn within and find the strength that lies at the heart of their being so that they can face the next day no matter what circumstances are awaiting them. Deane Nesbitt Jr. seems to have taken has these recommendations and has created the album "Soundtracks in the Sand" as a way to put all of his most powerful music in one place. Well that's only partly true of course. In reality the album was inspired by films that contain Deane's music, thus including African, Caribbean, Mexican, Celtic and North American influences. The album consists of 11 songs, and features the stunningly beautiful Celtic flavored single, "Tracking The Soldier".
The song's overall feeling is very contemplative in nature, evoking a feeling of serenity and tranquility but as it moves forward it also brings to mind celebratory thoughts. All of which leads me to believe that the song is an honorable tribute to fallen soldiers. But the music is vivid and colorful enough that you can probably produce your own daydreams to accompany it.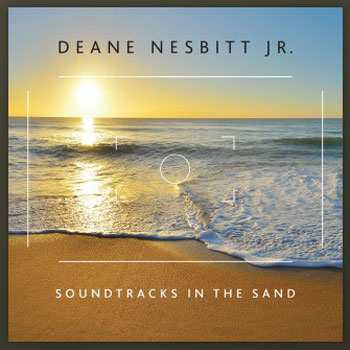 It is apparent throughout all of his songs that Deane Nesbitt Jr.  has a gratifying time, crafting this music as an expression of those feelings and emotions that we all have, and have a hard time expressing. His music invites you to let go of those things that are holding you back and to soar to the heights that your heart and soul can imagine.
Deane's music has a way of relaxing and inspiring the listener at the same time. His skillful playing has matured over the years to the point where now he has achieved a mastery of the instrument that allows him to communicate his emotions through his fingers on the keys of the piano.
Hence we now get to immerse ourselves in his passionate love for this instrument. An achingly beautiful piece, "Tracking The Soldier" touched me deeply each of the ten or so times I heard it in a row.
While Deane's music can be put on in the background in the event you are doing other things, I think that you owe it to yourself to sit down in a comfy chair and listen to "Tracking The Soldier" in its entirety to fully appreciate the composition. Dean's musical sensibilities are impeccable and this track should win him new fans right along with giving his existing fans a cause for celebration.
MORE ABOUT: Although Deane Nesbitt Jr. has composed music for years, he does not read music. His unique background consists of practicing law for 16 years, co-founding an investment management company and writing an illustrated history of a 1912 investment bank. Deane's music has been aired on more than 300 radio stations across America and Canada.
His recent CD, "Music in Search of a Movie", won the Philby Award in the United States for being one of the top 100 music CDs of 2015 and the Best Dramatic Music of the year. The album ranked on five CMJ charts for New World Music, reaching one of the top three positions on each.