Dutch Dolo is an up and coming artist from Greensboro North Carolina, with a passion for hip Hop. Dolo has been doing music since the age of 8 and has been rapping since the age of 16. Even though he is from the South, he always had an interest in up North music, and his flow reflects that. Dutch Dolo's favorite artists include, Jay Z, Tupac, Nas, Dmx and Biggie. With Several live performances under his belt Dolo is a seasoned artist ready to take his skills, talent and unique flow to the next level.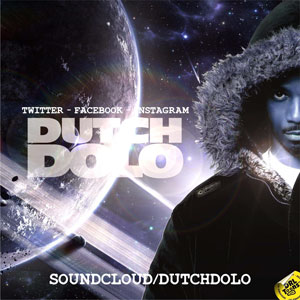 All of which you can find on his 13 track album "The Gold Standard". This is a very well rounded recording from Dutch Dolo – a lyrical showcase from an underrated artist. This has high replay value from start to finish, and is a must have for any fan of South, North or Coastal hip-hop. In an industry with deepening commercial roots, Dutch Dolo has a different and more specific alternative charm to him. This album sees the artist stick to his own creative groove and simply make great music, as he packs his fiery passion and keen insight for audiences.
If "The Gold Standard" feels separate from other works by similar artists, you can point to the production for the answer. Make no mistake, the soulful, cinematic and often banging flavor is pervasive. On top of these beats Dutch Dolo feels free to experiment with different sounds and flows, and sculpts an album that stands out sonically from the other projects doing the rounds today, while holding on to that classic charm.
The album has a nice variety while maintaining its cohesiveness, and while some songs have more of an aforementioned component than others, Dutch Dolo is able to incorporate a little of everything into every track. Just because it makes the trunk rattle doesn't mean Dolo isn't dropping knowledge. There is so much energy behind "The Gold Standard", with Dutch Dolo slaughtering the beats.
As he continues to evolve as an artist, Dutch Dolo provides us with timeless material on "The Gold Standard", and now his single "Never Get Enough". No one can tell if commercial success will eventually come his way, and even if he wants it at all, but as long as he is putting out music like this, it would seem he can do no wrong. Intriguing concepts, exceptional production, and captivating lyricism ensure that Dutch Dolo is one artist that has the ability to stick with you for life.