Since the age of 4, Katrina Stuart – a musician, actor, dancer, and model originally from Toronto, Canada currently living in Los Angeles, CA – has been honing her craft, performing in front of audiences, in television commercials, magazine advertisements and short films. Now signed to Musicash Records, for her brand new single "Blue Roses", Katrina flew to Sweden to work with a Grammy-nominated producer Trevor Muzzy (known for his work with Jennifer Lopez, Lady Gaga, Jason Derulo, Pitbull, and Nicki Minaj) and Swedish songwriter Aleena Gibson, who has worked with Jason Derulo, Mr. Big, Nick Carter, S Club 7, and Chenoa, among others.
The brand new single, "Blue Roses" narrates being in a bad relationship with a dishonest person, who is trying to make up for their insufficiencies with meaningless gifts. As always you can expect a track full of genius, heartfelt lyrics, incredible vocals, and overall fantastic production.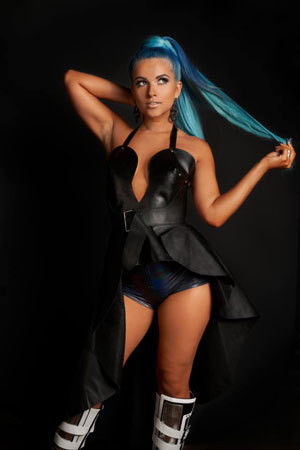 Katrina Stuart's performances have always had the capability of making you feel what the songwriter felt like at the time of writing, and that talent is truly captured in all of her recordings and video clips. "Blue Roses" finds Katrina getting back to the business of singing an aching, universal love song. Something she is particularly adept at.
Katrina Stuart's music is entwined in the parable of its creation, inextricable from the clues she leaves behind on Facebook, Instagram posts, and tweets, which encourages her fans to devote their time to uncovering the secrets of her latest release.
Katrina is becoming an omnipresent and dominant artistic force, as she intends finding a sound to call her own on "Blue Roses", instead of just singing over beats that are, at best, functional to the immense potential of her voice. The contributions of producer Trevor Muzzy and songwriter Aleena Gibson are meant to bring Katrina Stuart closer to leaving her indelible fingerprints on the contours of modern pop music.
Katrina's collaborators work to provide her with a song and production that exists like a stage designed to draw attention to the actor. This is the kind of opportunity that a talent such as Katrina's, never lets slip by. She is able to weave her gorgeously sultry voice into the fabric of the production, which itself contains nuanced emotion.
Furthermore her ability to switch from a whisper to an escalating soar, at will, allows Katrina the dexterity to manipulate atmospheres and moods within a song. When Katrina Stuart's performance is at its most powerful, she is able to pull apart the threads that deceivingly attempt to bind two people together, with a clarity uncommon in many of her peers.
The pop charts that were once dominated by long-standing superstars are now being populated by a diverse cast of talented upstarts who are native to the internet. There no longer seems to be any foreseeable barrier that can hold a talent like Katrina Stuart from pushing her way to the front of that cast.
Katrina will be performing live at a release party in Los Angeles for "Blue Roses" on September 28th along with the premiere of the "Blue Roses" music video.
OFFICIAL LINKS: FACEBOOK – TWITTER – YOUTUBE – SPOTIFY – ITUNES – SOUNDCLOUD
Previous Tracks By Katrina Stuart