On her brand new single, "Blu Ray", female rapper RAKZ 4K, has teamed up with producer Supply. The Tampa, Florida based artist has dropped the track in anticipation of her EP project, "High Risk". The Full Sail University graduate, with a bachelor's degree in Audio Science, has been recording and writing her own music since she was twelve. The independent artist has also started her own record label called A Plus Music Group (APMG). An understated production tour de force, the beat is enough to fuel RAKZ 4K's fire. Her voice and flow packs a mighty punch, particularly alongside the biting rhymes. RAKZ 4K is in full-on slaughter mode on "Blu Ray". It's an ambitious few minutes that keeps rap competitive and fresh.
Female artists are not just topping charts; they're also challenging and expanding the limits of the genre. Being a musician is in RAKZ 4K's blood, being a rapper proves to be equally natural for her. And the Tampa based artist is now ready to hit her stride with "Blu Ray", projecting all her qualities.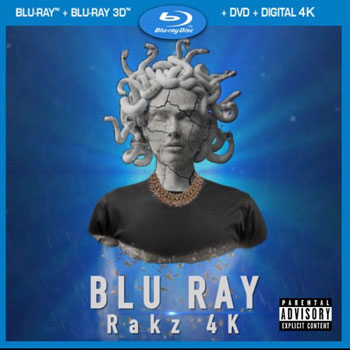 She may even be deemed a potential "breakout star", because her voice is impossible to forget. It's smooth and raspy in all the right places, a concentrated ball of emotion that exudes the genuineness which can be heard on this single. The song's pertinence and ability to captivate a listener, is strong.
RAKZ 4K is equal parts unpredictable and calculated, a somewhat all-encompassing mixture that leaves listeners in the palm of her hand. She is uncompromising in her purposeful ability to identify exactly where the rhythm is inside the beat, and then relentlessly rap over it.
Her lyrics and flow most closely resemble poetry, which makes sense considering that creative means was what sparked her rapping career. Her individuality transcends the music itself. She is, without a doubt, unlike anyone else in the industry right now. Her earnestness and tenacity, shines through strongly in "Blu Ray".
She always seems perfectly in control while still in some sort of catatonic rap state. It's rare a person is this complete. Her rhyming skills are undeniable, but don't forget she also is incredible behind the boards, when she wants to be. RAKZ 4K is a breath of fresh air in a world where it's not about talent, but who you know.
This lady speaks her mind, and shows she has many sides. And when she pours her heart out, you can't help but relate. She shows she is human and has a lot of vices and flaws. Her ability to move in, out and around her personality with honesty, is what sets her apart from her peers.
This female creative is in a class all by herself, don't sleep on her if you've never heard of RAKZ 4K, or if you have a thing against female emcees. Think outside the box, and pick up the "Blu Ray" single. You will find a gem, I promise you. Short and to the point…..two minutes of pure listening pleasure!
OFFICIAL LINKS: APPLE MUSIC – INSTAGRAM