Ritz Murphy is originally from San Diego and he started singing at a young age. Straight out of school, Ritz joined the vocal group Rare Blend, and before he knew it, they were signed to a record deal with Curb Records in Nashville. Rare Blend had a number of singles that topped the charts, including songs on the platinum-selling soundtrack for "Coyote Ugly" and the international hit film "Angel Eyes" starring Jennifer Lopez. Following his successful run with Rare Blend, Ritz set out on his solo career. After moving to Los Angeles, Ritz fronted several popular L.A. bands and wrote songs with L.A. producers and top songwriters. Ritz then moved to Nashville where he started writing new songs with a different flavor and teamed up with L.A. producer/writer Kenetix and North Carolina based producer Krazyfigz to create a new chapter in his career.
Ritz Murphy is gearing up for the imminent release of his new album "Back In The Game", while the first single "Boytoy" garners critical acclaim and widespread fan reach. Ritz presents a style that's both easy going yet makes you want to jump up and start dancing.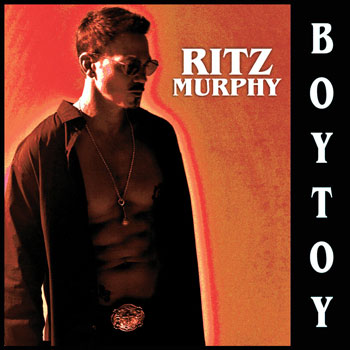 He and his production team masterfully create songs that are very easy to listen to and enjoy, and just make you feel good. His voice is a gritty tenor, full range and a silky soulful texture. He does not muffle his lyrics, so you understand everything he sings, which is what you want to do, as he has a unique quality to his music- one that you just can't stop listening to.
Ritz' powers are on full display on "Boytoy". There are only so many contemporary male performers who can confidently exhort the phrase: "I can be your freaky deaky boytoy," – as Ritz does with salacious relish – without coming off contrived and corny.
Ritz' lower register in the verses and melodious falsetto in the chorus all cohere into a song that straddles both seduction and cocky confidence. "Boytoy" is rigorously constructed and produced to one end: putting Ritz Murphy in the spotlight. And he is seriously up to the challenge. He's got the pipes and he's willing to push his vocal limits. As he does in the Earth Wind & Fire type choral interludes.
"Boytoy" keeps you looped in and listening from the get go, as the arrangement straddles a funky R&B/Pop format. Ritz Murphy and producer Tim "Krazyfigz" Walls show they're smart operators when it comes to the sort of crossover pop which has all the trappings needed to engineer energetic ear-worms.
The overall effort sounds good, highly-crafted and polished. It would have to be. Because, aside from his own instincts, Ritz Murphy has surrounded himself with quite a staff. Everything in, on, or about "Boytoy", offers the confident voice of someone saying, "I can do anything that you want!" This is a one-of-a-kind single, a rare bird for 2019.
OFFICIAL LINKS: WEBSITE – TWITTER – INSTAGRAM – FACEBOOK – YOUTUBE – SPOTIFY