King Femi is a Hip-Hop/Rap artist from Atlanta, GA. He doesn't have a comfort zone. As a restlessly eccentric artist, he's not afraid to change course, or to experiment. The elasticity of his catalogue keeps him tethered to hip-hop, as he bounces around all of its facets, like many of his successful contemporaries. With all this willful blurring underway, it seems more than fair for one of rap's most versatile and dynamic figures to pivot towards the perceived success formula. His latest release is the trap flavored "Young Queens". The track dazzles in its tightrope effort to remain endearingly deviant while cruising into accessibility. The result is something to behold. In its sonic specificity and imaginativeness, the song delivers inspired flights of stylistic fancy.
There's plenty of wheedled and auto-tuned phraseology, and part of the fun of this project comes when King Femi finds ways to twist his voice into new shapes. In fact King Femi finds a way here to highlight every element of his artistry that fans will find compelling: an organizational feat in itself, evidencing the tighter sense of discipline at work here.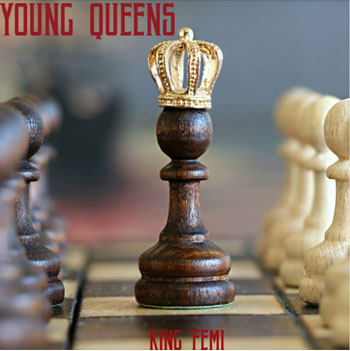 "Young Queens" feels unprecedented within his catalog because it strikes a balance the artist hasn't pulled off this well on a single project: mixing a unified sound with moments of aggressive experimentation and nagging hooks.
It suggests that King Femi is an artist with a long career still ahead of him, one whose bag of tricks may never run out as long as he continues to maintain his uncompromising identity. The overwhelming impression one gets from this track is a sense of flamboyance.
The more you listen, the more you're likely to find, and the more you find, the more you're likely to like "Young Queens". This is a trap song, and a very good one at that. If genre descriptors are to have any meaning, this is non-negotiable. King Femi has done a remarkable job of satisfying the full breadth of his fan-base with "Young Queens".
The production is distinctive while fitting largely within the trap idiom; 808 kicks, snares, and hi-hats lay a familiar framework upon which compelling rhymes are built. The song marks a point at which King Femi's pure lyricism, an unimpeachable sense of melody and flow, gels into an new age ear-catching project.
For the sake of the project, King Femi morphs his characteristic melodic rap into a slower twisted croon, presenting fans with a diverse version of himself. Despite the artist's evolution, though, one element of his music remains the same: the lyrics are as clever and genuine as ever.
It's hard to imagine other artists even conceiving of such a shift, much less executing it, but King Femi strolls through it. His voice compressing and expanding so effortlessly. Throughout his tracks King Femi has pursued the limits of his voice, stretching and pulling it. He has now emerged with an instrument of infinite capacity and he applies all that potential to his songwriting and rapping on "Young Queens".
"Young Queens" was released by Royal Family Productions, LLC and is available on Soundcloud and Spotify.
OFFICIAL LINKS: WEBSITE – INSTAGRAM – UNITED MASTERS – SOUNDCLOUD – SPOTIFY