OneUp Duo is comprised of married couple Adam and Jerome Bell-Bastien. The pair were recently on Season 15 of 'The Voice' and secured a spot on Team Kelly as the show's first ever same-sex duo. The NYC-based couple first met when they were cast in a music video as love interests, after which they fell into a real-life relationship. Bonding over their love of music, they created OneUp Due and have been collaborating ever since.  Though I have heard Adam and Jerome perform brilliantly on other tracks, their latest single, "Let Me Come Home" far exceeded my expectations and is a true gem.
A piano and string driven balled, with a lusciously poignant arrangement, the song openly and honestly affronts the question of unconditional love in a family situation. And it does so using the power of Christmas – traditionally a day that brings families together, and everyone has a stronger sense of belonging.
"My only wish this year is to feel that I belong. So let me come home this Christmas," sing OneUp Duo. "I just want to come home, to the only family that I know. We can make it if we try. We can accept what we can't change. No I don't want to cry, thinking that I let you down. I'm the same boy who you loved, I'm just a man now. So let me come this Christmas."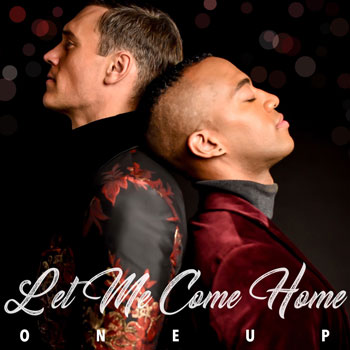 This is such a powerful message, and a truly painful predicament that many sons, daughters, brothers and sisters, go through each year. Unconditional love still seems to be one of the most difficult forms of sentiment to concede to another human being. It is in my humble opinion, the absolute Achilles heel of all humanity, the world over – and in many ways at the heart of intolerance.
I can hardly think of a better musical act than OneUp Duo to deliver the message contained in "Let Me Come Home". Not only because of their open same-sex love, but because they probably have the most gorgeous and impacting voices any duo could possibly have today. OneUp Duo are simply stunning in their vocal performance.
Their voices are naturally suited, and perfectly crafted, to harmonize and execute call-and-response passages that simply soar straight to the soul of the listener. Adam and Jerome are an oasis in the desert of what masquerades as contemporary Soul, R&B and Pop music. I was hooked from the very line on the single, and I have not stopped playing this track since.
OneUp Duo are, without a single doubt in my mind, the most promising vocal duo to emerge in the last 5 years, bar none. Period. "Let Me Come Home" is a tour de force of their talents, which are unlimited. It is a really powerful track that grabs the ears and sweeps them away into a whirlwind of emotion. T
his magnificent single is damn near as close to perfection as any I've heard recently. The lyrics are heartfelt, straddling lines of vulnerability, strength and the absolute empowerment of unconditional love. This Christmas, if you need to let one song into your playlist…and heart, "Let Me Come Home", is the one!