St. Geo drops his powerful 7 track project "STEAM". The album is described as detailing the artist's personal struggle with power, drive, and relationships. He delves into themes of societal isolation and the desire for connectivity. This is an artistically fired up album, which can be recognized as dark, complex and highly conceptual. It shows St. Geo's ability to sing and be known as more than just a rapper. "STEAM" will set St. Geo status in stone as a creative artist, as he further showcases his versatility and solidifies his position in the game. The fact that the majority of this recording is from the deepest crevasses of the artist's mind, illustrates how impressive this album is, the scope of St. Geo's talent and reflects how intense his connection the real world is.
All seven tracks have something different to them. In "STEAM", St. Geo has shown he can adapt and take on any style; all while keeping his distinct, abrasive flavor that makes you want to nod your head and rage. These songs would be exhilarating to see St. Geo perform live, as they can only be described as absolute bangers.
Regardless of how complex the artist's relationship is with the status of the world, it is unbreakable and it is refreshing to see him take on a collective mentality within a personal plea, as it really feels like he released St. Geo on behalf of every single afflicted person in the country.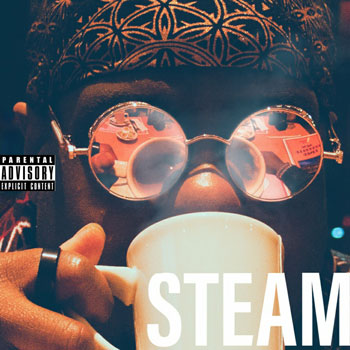 His tales are intimately personal, yet universally relatable. He could be the person in all of us. Despite all the odds that he feels are pitted seem against him, St. Geo takes on a creative stance on the art of reminiscing and tells a set of stories.
"STEAM" shows that St. Geo has come full circle in analyzing the good and the bad that comes with life, and it is beautiful to hear. The album is consistently urgent, energetic and raw. It is the perfect reverence to what has been going on in his life. Rappers, rappers are everywhere, but only a select few of them are the real deal.
The brief "STEAM" marks my first time listening and reviewing a project by the rapper, but what is striking is just how electrifying St. Geo is. Fittingly, the album commences with the title track, "Steam" – a potent record that quickly sets the tone.
St. Geo spits tough verses, comprised of straight, un-pitched bars on the alternative "Electric Revival", while on "Dangerous People" he cleverly slips in a sample of "Seven Nation Army". "Lord of Lords" is even stronger, with its slow, slick, malicious production work which serves as perfect fuel for St. Geo's fire.
On "Strobe Light", the rapper's flow stands out, as he raps with ease, showcasing agile, biting rhymes, and some sweet melodic lines. "Queen Save the God" is no slouch, maintaining the consistency and atmospheric energy level of the album. The production provides St. Geo with a phenomenal, hard-nosed backdrop, which he slaughters.
The album closes with "1More Ride". Following a dramatic intro, he unveils the simply glorious chorus that slaps the first time you hear it. "STEAM" may only run 7 tracks deep, but St. Geo certainly makes the time worthwhile.  Ultimately, there's never a dull moment, with St. Geo maintaining high energy and dropping some stellar bars.