By the age of 10, artist and producer Gual had picked up his first guitar. Two years later he was experimenting with music production, using a Korg Poly-800 synth, his guitar, and an old Panasonic dual cassette recorder. These days Gual is still channeling all of his energy and passion into his music with a nu-disco single entitled "Get Down". This is an excellent electronic dance track album from Gual. Fat synths, smooth syrupy and soulful vocals, and thick funky basslines make this track a must have for anyone who appreciates any disco or dance music. The whole track has a hard-to-describe 80's nostalgic-yet-futuristic feel.
No, seriously, a lot of people rate things 5-stars but this is genuinely a 5-star single. Ok, let me clarify. I hate dance music that is repetitive, unimaginative, and beat the few good ideas they have to death within the first minute they appear.
Lots of EDM music is especially well known for the "throw it at the wall and hope it sticks" kind of music that has made it both, one of the most fascinating, vibrant and terrible genres of music ever made. Gual has come to save electronic dance music from mediocrity. Gual has ridden in on a range of synths, adorned with bags of melody and groove, to spread to all who will accept it.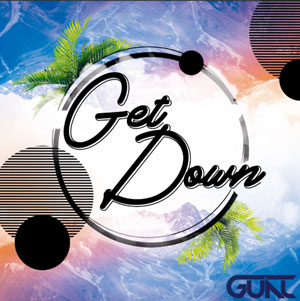 And there is no reason why you should not accept it. I know I'm risking over-hype here, which I don't mean to do, because this is hardly an original track. In fact, the very premise of "Get Down" is utilizing sounds from the 70's and 80's to recreate that old school vibe.
Except "Get Down" goes beyond that, it takes those years of experience, and crafts one of the best nu-disco tracks of the year. It rarely rests on its laurels from the opening bars, offering buoyancy and dynamism in a jam that lasts just under four minutes, providing an enjoyable auditory experience.
Flipping the script on a lot of modern electronic records, Gual delivers a bright, uplifting production that rides on a thumping beat. The producer guides listeners through driving horn stabs, arch-funk bass lines, and true synth menace among the swirling choral soars, and whiplash handclaps. "Get Down" re-frames the monotone, four-to-the-flour compositional ethos that we've come to expect from EDM.
Happily stuck somewhere in glorious dance era, Gual refuses to acknowledge the eulogy for classic synth sounds from iconic instruments of that era. Instead, he revels in them, often preferring moving funky basslines, and classic thick scattering horns, over futuristic sounds invented in the last few years.
The production is perfection, and if you're into classic disco musical clichés that defined electronic music in that era, such as the iconic hyperactive clap accompaniment, "Get Down" becomes a celebration of nostalgia and perhaps a narrative into something deeper. The trip back is lots of fun. It is surprisingly beautiful in tone, and its retro-wave 80's groove, total wonderfulness!
OFFICIAL LINKS: WEBSITE – INSTAGRAM – TWITTER – SPOTIFY – SOUNDCLOUD – YOUTUBE – ITUNES