Olga is a Brazilian born and raised, London based singer-songwriter and producer who appeared on the music scene after the release of her debut single a few months back, entitled, "Lips On Her, Eyes On Me". Now she is back with something just as addictive – the production is a thoughtful, upbeat work that expresses the awkward compromises we sometimes consciously commit in the name of a desired relationship. Olga's voice does not need any introduction. Songs written for her vocal cords are a few degrees deeper and more intimate than many of her contemporaries – up to the level creating chills and goosebumps.
Led by pure resonating basslines, a thumping drumbeat, and Olga's unique vocal timbre, her latest single, "Go Easy On Me", immediately offers a hint of frustration over a relationship: "When I met you, you told me you were done with falling in love. Those days are through, now you only want me if it's not serious. But I wanted you so bad. So I agreed to all of that, despite all the doubts inside my head. Something tells me you will break my heart…"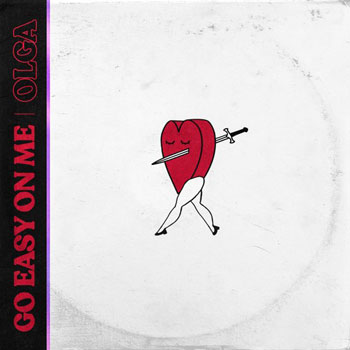 If remember the extreme drama all relationships seem to generate at some point, this track will speak to the deepest fiber of your being. I'm just so glad I grew out of that period of my life. Musically, the song hinges on the dynamic beat, and of course, Olga's voice.
For an electro-pop track, "Go Easy On Me" has a subtle complexity, leaving the explosiveness to the vocals and lyrics. Romance, attraction, and the settings of compromise and loss, occur in commingle to illustrate not only Olga's prowess as a songwriter, but also her understanding of what relationships can sometimes be – intense, but ultimately messy and short-lived.
"Go Easy On Me" is punctuated by a plucky bass riff that reverberates throughout the entire track, swelling the instrumental. Olga frames love as an intoxicating but high risk compromising affair; it's actually a little worrying, from the outset, how all-consuming romance can be. After the emotional high comes the inevitable tragic crash.
Though upbeat, the song is soulful and dark, powerful in its union of hope, disappointment and post-breakup evaluation. Olga takes ownership over not only the songwriting process, but the whole narrative. Her vocals are foregrounded here and as much as this song is about the power of words, its Olga's devastating lower and soaring upper registers that carry this song into the sublime.
A complete story could be written about Olga's take on male-female subjectivity here, but it doesn't take a university degree to get the heart wrenching beauty of this track. It's pulsed-up and banging stuff, but there's that hint of melodic sadness, that invitation to look closer.
But if the song teaches us anything, it's that a crash after compromise is almost always inevitable. "Go Easy On Me" works so well because Olga truly owns it— she pours her feelings into the song's every expression. It's high-concept, artful but emotional stuff, both musically and lyrically.