Shayan Ali who goes by the moniker of ZINGA, a singer-songwriter who doesn't confine himself to any one genre, was born in Bangladesh and grew up in Chicago. The moniker of ZINGA is derived from the Spanish word "Zingaro" which means Gypsy and meant to reflect the nomadic ways of the gypsies. ZINGA, whose father Shafaat Ali, was a pioneer of pop music in Bangladesh, fuses genres such as Pop, Latin, Dance, and Rock. His latest single, "Can't You See" is wondrously able to fuse almost all of the aforementioned styles into one four-and-a-half minute song. And it does so effortlessly.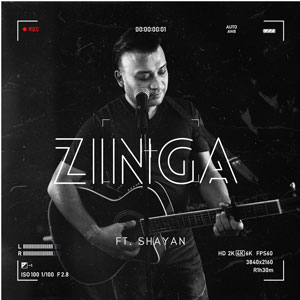 On "Can't You See", ZINGA collaborated globally with famous musician and songwriter Arturas Novikas from Lithuania, Producer Malachi Mott from LA, Ry Jones from England, singer/rapper Blanco Dela Cruz from Spain, and the Jazz Acapella group Jazz Island from Vilnius Lithuania, as well as back up vocalist Drsyaa from India to create this single.
The production was mastered and mixed in the US, by Producer Brendan Ruane. "Can't You See" shows ZINGA's ability to be dynamic and to compose an epic well thought out and executed song.
"Can't You See" is a song that got quite a few replays, and it's a song that took me someplace special.  When a song can do that for me, I consider that more than a song.  I consider that an experience. "Can't You See" is a sonic voyage that will sweep you away.
It's rare to see an artist explode with creativity and accessibility at the same time, yet ZINGA has accomplished just that with apparent ease. In fact, there are a lot of elements in ZINGA's music that reminds of the globalist sounds courtesy of Carlos Santana, even though they make different kinds of music.
The new record, "Can't You See", explodes with energy and groove, showcasing tasteful guitars, nuanced vocals, and sticky, stubborn Latin rhythms for a huge dancefloor atmosphere. "Can't You See" begins gently before exploding into a vibrant percussive rhythm, bringing energy and a thrilling arrangement.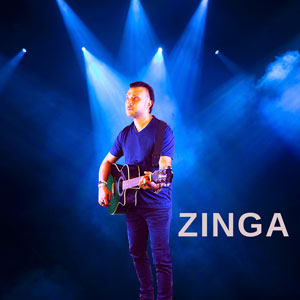 The groove keeps going, taking on a fatter and punchier drive, while never missing a step along the way. It's a huge record from start to finish, and you'll be swaying to the beat thoroughly, too.
"Can't You See" proves that ZINGA can rival or even best nearly any of their underground contemporaries, when it comes to all-embracing crossover rhythms and melodies in the pop, dance and Latino markets.
ZINGA and his entire collaboration crew deserve their props for providing solid rhythmic and vocal work, and knowing when to give a little more, or pull back some, to ensure the song is appropriately spacious or energetic and boisterous when needed. "Can't You See" is a vibrant, danceable song with a big dollop of pop sensibility thrown in for good measure.
"Can't You See" is 4 minutes and 21 seconds of music that is a joy to keep returning to. It demonstrates that ZINGA can utilize dynamic range, as the song ebbs and flows, shifting from melodic, pop-inflected verses to the big Latin orchestrations. This is undoubtedly a strong release from ZINGA.
OFFICIAL LINKS: WEBSITE – FACEBOOK – INSTAGRAM – SPOTIFY – SOUNDCLOUD – VEVO – ALL STREAMS