Boro Hall is a Brooklyn emcee and music producer, 1/4 of the incredible DMI family (drugmusicink). His inspiration in hip-hop and R&B, is influenced by the likes of Jay Z, Biggie, Nas, Tupac, Prince, A Tribe Called Quest, Wiz Khalifa, and many more. Boro breaks through the confines of style, hopping from spitting straight bars to melodic rhyming. He can go from old school soundscapes to new school vibes in the blink of an eye. The artist has been keeping a low profile and a musical track record that's been speaking for him. His jump from the gritty boom-bap inspired "Body Bag", to his latest vibe-inducing new wave jam, on the mellifluous "Henny & A Bong", testifies to a spectacular shift in style.
Clocking in at a tight three minutes and three seconds, ambitious euphonic soundscaping serves as the nucleus for what drives "Henny & A Bong". What immediately shines on here is Boro Hall displaying his vast musical color palette, as he rides the shuffling beat with effortless ease, sitting on the brink of the middle ground, between a croon and a spit. Boro finds a pocket amongst the beat and background voicings to proclaim his storytelling blessings in impressive fashion. Moreover, he took care of the production himself.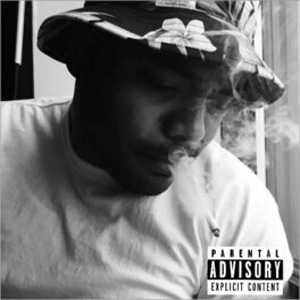 The gamble on showing off his versatility is worth it and pays off. The various influences Boro Hall pulls from really highlights how multifaceted of an artist he is. "Henny & A Bong" is an impressive effort that proves the Brooklyn emcee's bag of tricks is overflowing. The limitless musical colors on here, bleed together to create a captivating picture of his talents. On this single, Boro Hall is continuing the mission of putting himself forward as an ambitious talent.
Boro Hall's delivery is wrapped in melodically styled motifs, and is backed by a warm and smooth beat that sparkles and shimmers, yet somehow, he sounds vigorously vital and vibrant on the mic. The production flourishes make sure the musical foundation of the song stays as interesting Boro's delivery on top. The emcee's crateful of vocal styles shown in his playlist, surpasses most of his contemporaries, both in number and variation.
Boro Hall is one of the underground's most creative and experimental minds, as he's not afraid to attempt different styles and push boundaries. "Henny & A Bong" brings yet another chapter to Boro's artistic uniqueness. His vocals reflect the sentiment of the track, and it's really ear warming, as he works his wordplay into the melodic magic. There are some great lines and the hook, while simple, is effective and very catchy.
"Henny & A Bong" also builds into the excitement of seeing Boro Hall's progression. After being able to see him deliver on this single, it will be interesting to see where it takes Boro next. With his diversified multi-level talents, that could be anybody's guess. He has the potential to rake in the numbers regardless of which direction he is moving in.
OFFICIAL LINKS:
https://www.facebook.com/profile.php?id=100041476104852
https://music.apple.com/us/album/henny-a-bong-single/1637660270
https://deezer.page.link/CvBhvtkBoBeFqWkM9
https://open.spotify.com/album/1GKEbXa2rU2y0xJKk7RRJm?si=5lEc-4tIR1qH-3WFW_UzQQ