Sponsored by Destination Hwy 420, independent artist Kay Vibes has some big projects on the drawing room table, including merch, videos, and live features. He is definitely a superb emcee but the thing that makes him stand out even further is that there is a raw fire which ignites in the midst of his delivery. Not only that but he is more than capable of maintaining that intensity throughout his tracks. This should come as no surprise, considering his catalog will show you that the dude has been putting in major work this year, to make sure he stays on top of his game.
Kay Vibes' delivery is what really sets him apart from his contemporaries as he drops syllables that dance over the beats with effortless ease. Bold, brash, and at times moving, his records feel unified in their intent to conquer the world, while affording the rapper space to build outwards with his technique and wordplay. All of which can be heard on his latest single, "Goodies". His most ambitious project yet, and the one in which he gives even more of his authentic self.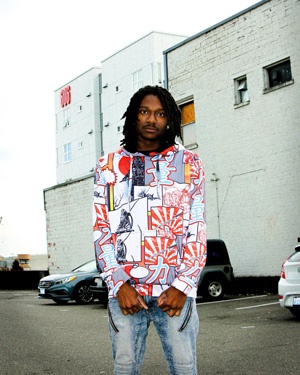 "Backpack full of goodies I be selling. I can't be friends with a nigga that be telling. Bout to call the plug big bag that I'm scaling. Bout to get a buzz off this sativa I'm inhaling. Big bag bitch need a real bad bitch. And I'm feeling too fly need a landing strip. Bitch I'm way too high need to come down quick. Big blunts big PS I be rolling up zips," spits Kay Vibes as he unfolds the narrative. He can rap consistently at a high energy level and at a very rapid pace, but here Kay Vibes focuses more on his songwriting ability.
While still keeping the pace of his flow brisk on "Goodies", it is apparent that his wordplay and rhyme schemes are designed to be significantly superior. It raises the bar for an artist who has already released a string of great tracks. Though it's full of modern day influences, it still maintains the essential core elements of classic hip-hop. This combination is what makes Kay Vibes sound familiar, but at the same time, not quite like anyone else.
Kay Vibes is charismatic, he has bars, and his presence is always commanding. These are the key elements, which propel "Goodies" to the front row of a genre exploding into a myriad of stylistic directions. With that being said, Kay Vibes has the vision to craft an entertaining modern track, while his beat selection is unquestionably spot-on. The production bounces with energy and a thumping bottom end, which underscores the distorted keys.
The beat seriously contributes towards highlighting Kay Vibes' skills, as he sits tightly in the pocket of the groove. Everything about "Goodies" shows why Kay Vibes is a rapper that deserves praise. Both, the artist and the production absolutely delivers on every aspect of the song. Kay Vibes is on a constant uphill trajectory with each new release, it's just a matter of how high he can go now.
OFFICIAL LINKS:
www.Instagram.com/KayVibesMusic
www.Linktr.ee/kayvibesofficial