"Steady Chirpin" is easily Luscious Immortal's best work to date. The 26-year-old artist from Crestview, FI, who has been making music for about 5 years, continues to refine his style on every project and matures along with it. This latest single release has the potential to really boost the rapper's credibility, generate a buzz from the rap scene and intrigue major pieces in music. Boasting your standard-issue trap hi-hats, keyboard loops, and booming basslines, which are all on point, the highlights of the project expand to the mesmerizing verses and the moments where Luscious Immortal's voice switches up, and kills the beat. In fact, the wordplay, flow and lyricism on display here is surprising, and well above the genre's high watermark.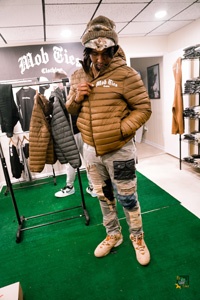 Luscious Immortal an immediately be looked at as a dual artist. What separates from other artists in the rap and trap scene apart from his skill to execute intoxicating melodic twists to his hooks, is his ability to really rap.
He has a resonating voice that demands to be recognized every time he's on a track. Luscious Immortal has the hooks, but it's his rhymes and bars that will make him successful.  His style allows him to make catchy songs with a lot words. All of which he unpacks in "Steady Chirpin".
My first surprise on listening to this track was that "Steady Chirpin" is 3 minutes and 30 seconds long. Many rappers today are making songs 2 minutes or less. The strategy is to get more streams on places like TikTok, but it usually doesn't give the song much longevity.
These kinds of artists make a splash and then are quickly forgotten about. This tells me that that Luscious Immortal is in it for the long run, with the ambition to carve out a serious career.
Moreover, Luscious Immortal's rhythmic rhyming makes it easy for someone to remember the words to his songs after two or three listens. There is still a big audience for the wordsmiths of rap, but if rappers can make those words resonate with rhythmic groove and sticky melodic-styled twists, the listeners amplify immeasurably.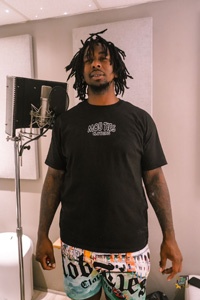 Luscious Immortal fits into that pocket of duel artistry with ease. He is an incredibly dynamic artist with a range of different styles and flows. In the modern music world, sound is a big priority. Above everything, the song needs the right sound and vibe.
It doesn't take a musical genius to see that Luscious Immortal's sonic formula on "Steady Chirpin", of a thumping low-end, lathered in skittering percussion and shimmering keys, is a winning one, which keeps the dopamine spike running high. If had to stumble on a playlist featuring "Steady Chirpin", you would soon notice the track's shimmery stylings shine through at their finest.
It's not easy for an artist to rise above the noise in today's oversaturated climate, but the honesty and energy Luscious Immortal exudes is simply amazing and hard to ignore. It's obvious that he is a truly talented artist with an amazing voice and unbeatable lyrics, regardless of the topic he tackles. Moreover, Luscious Immortal has shown his grind by dropping another powerful project in the same year as two previously released singles, and an album.
OFFICIAL LINKS:
Instagram lusciousimmortal6
Twitter @rackrcrs
https://music.apple.com/us/artist/luscious-immortal/1603679261
https://music.apple.com/us/artist/luscious-immortal/1520847442