Let's clear the record, straight off the cuff. "Masquerade" is a divinely awe-inspiring single, beautifully written, produced and delivered by one of indie rock's most innovative and idiosyncratic recording artists. The song takes its listener on a transcendent journey through ignoble art of pretense, addressing the complexities of maintaining transparent relationships, associations and interactions in this ever-changing, modern world. It is clear from the outset that Anastasia Elliot focuses strongly on her song-craft, and is led by nothing other than her forward-thinking vision on "Masquerade". The song's creative flair, poetic lyrics, liberating melody and soul-stirring musical production is all laced together to create a truly powerful and sonically expansive piece of work – rich in sound, high in emotion, and spectacular in vision.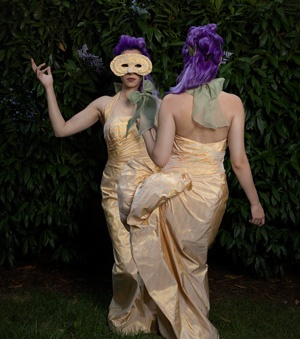 "It is a commentary on desiring authenticity from others. Whether in relationships, friendships or in our current social media, celebrity and influencer culture. We are always navigating the "masquerade" of the world and trying to figure out what is real and what is fake. This song is an anthemic call for realness and owning our true selves. Nothing is "too much" when it comes to being who you truly are," explained Anastasia. As such, she has used potent metaphoric imagery – lyrically, musically and visually – to convey the song's message.
As a gifted writer, with a natural talent for communicating her thoughts, Anastasia Elliot manages to tap into the current cultural zeitgeist, creating a stirring narrative. Her inherent penmanship and understanding of the human heart and mindset together with all of their complexities are evident for all to hear.
"Standing right in front of me with your disguise. Dressed up in black lies. Porcelain face covering your scars. I wanna break it off tonight. I've got a game for us. Can't use your hands to touch. Too much is not enough," are the opening lines with which Anastasia launches her thought-provoking narrative.
Anastasia Elliot delivers in a massive way on "Masquerade", which is the latest release off her highly anticipated full-length visual album "La Petite Mort". Her stunning vocals, featuring sassy operatic characterizations are full of conviction and verve, enabling the singer-songwriter to create the most inspiring and engaging single of her career to date.
The eccentric purple haired songstress has an intense intelligence behind her twinkling eyes, and her volcanic musical style makes her stand out in a sea of unoriginality. Anastasia also wrote and produced the song's visual, which is overlaid with vintage graphics of body parts symbolizing what is going on inside, as she performs while being watched by her lover.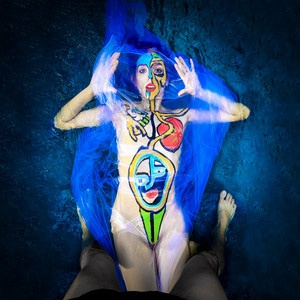 Anastasia was inspired by the tragic story of Sid Vicious and Nancy Spungen, and for the video, which is filled with her usual metaphoric imagery; she chose to reverse those roles. Anastasia performs, wearing a jacket painted by collaborator, Cacho Falcon, depicting his visual interpretation of the lyrics of the song, and her nod to Sid Vicious' infamous lock around her neck. The video, and the song, are part of a series of connected single releases, each one carrying its own chapter of the overarching narrative.
A professional perfectionist throughout, Anastasia Elliot doesn't simply write songs, as much as she creates epic enveloping sonic worlds, within the symphonic power pop and rock music idioms.   Currently based out of Nashville, Tennessee, Anastasia is building her brand with meticulous planning, accumulating music releases, videos, live shows and television appearances. She also finds the time for public speaking engagements with high schools, colleges, and corporations focusing on healing trauma and mental illness.
Regardless of which endeavor Anastasia commits to, she always seems to put the best of her talents to use. A rousing and thunderous track, "Masquerade" is yet another testament to some of those immense talents, and speaks to Anastasia's immaculate curation of her projects. The artist's refusal to give in to complacency permeates this new addition to her catalog.
There is no doubt that Anastasia Elliot is full of enormous potential. She is creatively engaged and capable of balancing a focus on listener relatability, alongside the production of finely crafted music and vidoes. All, without ever compromising her artistic vision.
Follow Anastasia Elliot:
Website||Spotify||Apple Music||Facebook||Instagram||YouTube