The cool, shimmering EP "Satori", is a cohesive effort, so exquisite and transcendental, it mesmerizes your senses. Consistently excellent throughout, Sam Royale sails through its three tracks with effortless ease, dragging listeners along his emotional journey. He deals out sentimental and sophisticated lyrics in voice that's silky and smooth, over beats that skitter and shimmer with trendy twists. Sam Royale juxtaposes sparkling chords with affecting words, which serve his musical inspiration, as he dives deep into glistening oceans of sound, undulating bass lines, and murmuring synths, with his sweetly effortless vocal tones floating and gleaming on top of it all.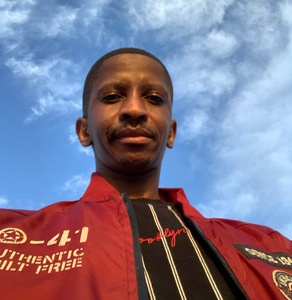 Sam Royale is a South African singer-songwriter and producer, hailing from Soweto. Sam has released a series of popular singles, of which his latest, "Over", reached as far as the Netherlands and was featured on DJ Ella G's Strand.FM radio show The 2193 with ELLA G. The theme of his EP "Satori", is described as being about "the necessity of pain and adversity in finding yourself and connecting with the world around you."
Sam Royale pushes his artistry around the confinements of R&B by including neo soul, indie, electronic and pop flavors into his canon, thus exploring new sonic approaches and textures, which makes his music fresh and relatable.
It feels deeply inspiring too, especially amidst a period when much of R&B has regressed from organic emotionality into simple musical opulence. Sam's music is fully infused with emotional resonance and atmospheric depth.
The opening track, "The Wolf and the Moon" immediately sets the intimate tone of the project. Sam Royale's sultry and searching sentimentality hits home quickly as his subtle-toned register aims straight for the heart. The sound is lush and layered on top of a growing bassline and skittering hi-hats.
His impassioned conviction brims with tremendous desire, for someone in love with another. "I know you're in love with someone else, but I won't give up, I'll be here for you," sings Sam Royale, rather wantingly.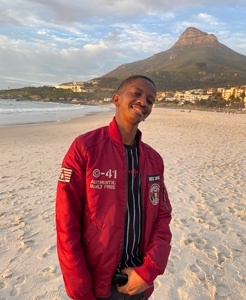 The guitars jangle and ring on "Heavens" which is underscored by a solid hip-hop beat, throbbing with kinetic energy. Here Sam launches another hypnotic melody, which will hold listeners' attention from the beginning to the end.
The singer-songwriter then moves on to close the EP with his acclaimed single, "Over." where the careful orchestration makes a tasteful contribution, adding dynamic shades of color to the musical palette. Sam's voice is again in spectacular form.
It's unquestionably clear that Sam Royale's is madly in love with life, but like most of us, suffers its emotional afflictions and complexities. While attending to his own personal issues, Sam awakens deep and sincere emotions in listeners, throughout the recording. Musically, the EP "Satori" possesses dazzling stylistic reach, fusing hefty doses of electronic, soul, and pop flavors into the R&B stylings.
Sam Royale's combination of musical depth and vocal craftsmanship reaches a new peak on "Satori". The EP's sonic charms will immediately pierce your consciousness, but its Sam Royale's vocal dexterity, which is at the center of everything, showing intense emotionality and sincerity.
OFFICIAL LINKS:
https://www.instagram.com/jedimindfuxx/?hl=en
https://www.tiktok.com/@jedimindfxx?_t=8Xs8eYdBCCL&_r=1
https://m.youtube.com/@samroyale8806