Hailing from Lithuania and Sweden respectively, Real Rakas & Harold have joined forces in the vibrant city of Barcelona, where their creative synergy has given birth to something truly extraordinary. Get ready to dive headfirst into their captivating musical world as they unveil their debut 7-track project, aptly titled "Blood On Your Hands," set to drop on July 25th.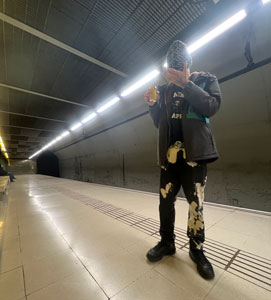 Drawing inspiration from a diverse range of musical influences including Young Thug, Dj Screw, Gucci Mane, Lil Peep, Drain Gang, Dj Smokey, and Jxxyy, Real Rakas & Harold have crafted a sonic experience that encapsulates the essence of their Barcelona lifestyle.
Fueled by the energy of wild parties, swaying palm trees, and the allure of beautiful girls, "Blood On Your Hands" is a pulsating voyage through the vivacious spirit of the city they call home.
With three enticing music videos already released for the tracks "Nosebleed," "Let Go," and "Ok!," the anticipation for their upcoming visuals continues to build. As we bask in the glory of summer, expect more captivating videos to grace our screens, taking us deeper into Real Rakas & Harold's artistic universe.
Fresh2Death Entertainment proudly presents this remarkable EP, a labor of love, featuring seven meticulously crafted songs. Written and performed by the enigmatic Real Rakas, with production wizardry courtesy of Harold, each track encapsulates a unique facet of their musical prowess.
Prepare to be mesmerized by the likes of "Ok!," an opening piece that effortlessly blends psychedelic moments, deep basslines, and the hypnotic allure of weed-induced serenity.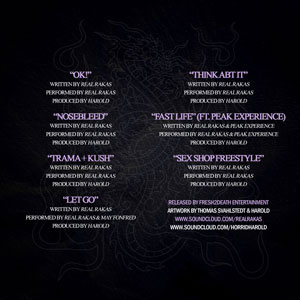 As the journey unfolds, "Nosebleed" thrusts us into a realm of slinky, futuristic soundscapes, where kinetic synths, 808s, and handclaps collide. Real Rakas' vocals effortlessly dance atop this sonic tapestry, delivering captivating tones that are nothing short of enthralling. Then dive headfirst into the multidimensional aesthetics of "Trama+Kush," where Harold's production prowess shines, gliding like silk upon the ears.
In the evocative "Let Go," Real Rakas elevates the EP to new heights, effortlessly weaving intoxicating melodies that lure listeners into his world. The track showcases Real Rakas & Harold's symbiotic relationship, as they effortlessly synchronize their creative energies to craft a song that lingers in the mind long after the last note fades.
Skittering hi-hats and echoing vocals define the wistful masterpiece "Think Abt It," as Real Rakas weaves a twisting lyrical tapestry, shifting tones and emotions at will.
This is followed by an explosion of sonic ecstasy on "Fast Life" (ft. Peak Experience). Real Rakas' flawlessly pitched vocals intertwine with buttery lines, seamlessly merging with a dynamic, synth-driven instrumental. It's a testament to the polished artistry that permeates every corner of this project.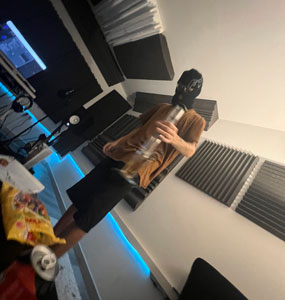 The EP culminates with "Sex Shop Freestyle," an enthralling epilogue showcasing Real Rakas' flawless verses and Harold's forward-thinking production. Together, they deliver a harmonious conclusion that is both vibrant and captivating.
Real Rakas, an artist of unparalleled dexterity and wit, possesses an extraordinary talent for painting vivid portraits of life's experiences. With a masterful command of tonal registers and a meticulously sequenced album, he transcends the boundaries of conventional music, elevating "Blood On Your Hands" to a level where it becomes greater than the sum of its parts.
Yet, beyond his elastic voice, abundant flows, and unparalleled storytelling abilities, Real Rakas' true gift lies in his relentless pursuit of genuine beauty within his music. Teaming up with the prodigious producer Harold, the two have crafted an enchanting EP that intertwines mesmerizing vocals with lusciously layered beats.
As the release date of "Blood On Your Hands" draws near, brace yourself for an immersive experience that will transport you to the heart of Barcelona's pulsating lifestyles. Real Rakas & Harold have set the stage for a mesmerizing debut, where the allure of their soundscapes intertwines with the passion that courses through their veins.
Get ready to be captivated, uplifted, and inspired by this formidable musical partnership. The world is about to bear witness to the rise of Real Rakas & Harold, the architects of a sonic revolution.
OFFICIAL LINKS:
https://youtu.be/XnDOFTgNNXs
https://youtu.be/NoeyVnc5lI0
https://youtu.be/DlN9xIVGnyc
https://instagram.com/realrakas?igshid=MjEwN2IyYWYwYw==
https://instagram.com/____harold_____?igshid=MzRlODBiNWFlZA==