Prepare yourself for another electrifying journey as we dive into the sonic realm of Sollars, the prodigious artist hailing from the Valley in the DMV region. From the tender age of 15, Sollars has been honing his skills behind the microphone, but it is only now, with unyielding determination, that he truly follows his muse. With a work ethic that knows no bounds, Sollars has set himself the goal of blessing his fans with a fresh music release every few weeks in the upcoming months. So get ready to be blown away!
The beat pulsating through Sollars' latest single, "Shake Me," is infused with an irresistible urgency that grabs hold of you from the get-go. In just two-and-eleven-seconds, Sollars showcases his cutting-edge delivery while flexing his pen game at the same time. His verbal onslaught is armed with bravado and grit, taking listeners on a rollercoaster ride of anxiety and self-assuredness.
Supported by a bass-booming production, Sollars reaches his maximum potential, unleashing bars with earth-shattering impact. "Shake Me" perfectly captures the duality of anxious feelings and unwavering optimism. Each line of Sollars' rap is captivating and piercing, revealing a level of artistry that exemplifies his peak abilities. On "Shake Me," Sollars raps with an explosive and magnetic energy that feels like a natural extension of the beat itself.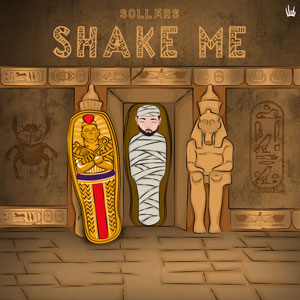 Now, let's delve into the compelling lyrics of "Shake Me." The song opens with Sollars' admission, "I could sleep for days, somebody wake me." It's a vulnerable moment where he acknowledges the need to break free from a haze and regain focus. "I'm not feeling great lately," he confesses, conveying the internal struggle. But instead of succumbing to slumber, Sollars pushes forward with unwavering determination. He has dreams to chase, plans to execute, and he won't let himself fall into the depths of lethargy.
The intensity builds as Sollars asserts his drive and hunger, painting vivid images of stormy clouds and thunderous skies. With every bar, he asserts his intent to surf his own path, defying obstacles and carving his own destiny. "Get on board with the movement," he proclaims, inviting listeners to join him on this exhilarating journey. Sollars remains resolute in his pursuit, navigating the lanes and discovering new horizons.
There are moments of vulnerability, too, where Sollars acknowledges the need for support. "Sometimes I need help, somebody shake me," he admits, reminding us that even the strongest souls face moments of self-doubt. But through it all, he perseveres, pushing forward with unyielding strength. The dark side may loom, but Sollars remains steadfast, constantly pushing himself to overcome the tough times.
In the final verse, Sollars' voice rises with determination, capturing the essence of his unwavering spirit. "I'm not feeling great lately," he reiterates, emphasizing the emotional journey he has endured. Yet, his indomitable will to succeed fuels him, propelling him forward. With each passing day, he inches closer to his dreams, refusing to be shackled by the comfort of sleep.
Sollars' "Shake Me" is a potent anthem that resonates with anyone who has faced moments of self-doubt and the relentless pursuit of their ambitions. His explosive rapping style melds seamlessly with the pulsating beat, creating a sonic storm that demands attention. Sollars takes you on a wild ride, leaving you breathless and inspired.
Embrace the raw energy and let it ignite your own inner fire. With Sollars at the helm, there's no doubt that he is on the path to the next level. Stay tuned as he continues to grace us with his creativity, showering us with a series of new releases. Sollars has arrived, and he's here to shake the world.
OFFICIAL LINKS:
www.instagram.com/sollarsmusic
www.facebook.com/sollarsmusic
www.twitter.com/sollarsmusic